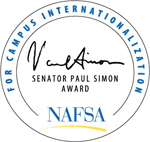 Each year NAFSA* recognizes institutions for overall excellence in internationalization efforts as evidenced in practices, structures, philosophies, and policies with the Senator Paul Simon for Campus Internationalization Award.
Spotlighted schools for 2008 include: Goucher College; Nebraska Wesleyan University; Pittsburg State University; University of Illinois at Urbana-Champaign; Valparaiso University.
Profiled schools for 2008 include: Colorado State University (my alma mater!); Miami Dade College; Webster University.
Do you wish to nominate your institution or alma mater? Learn more about the nomination criteria then click here to find the nomination form. Your nomination form must also be accompanied by an essay, up to 2000 words, that makes a case for your institution's nomination. The deadline for submitting the form and essay is November 28, 2008.
*About NAFSA:
"NAFSA: Association of International Educators is a member organization promoting international education and providing professional development opportunities to the field. Hundreds of NAFSA members volunteer to serve the Association and thousands advocate for international education."