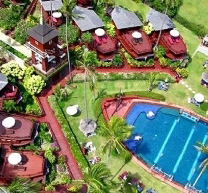 Koh Samui island in Thailand has numerous lovely beaches and bays. It is, almost literally, an island of coconuts and forested hills and is fast becoming a resort island of international stature. Samui's best beaches line the northern and eastern coasts with the most popular being Chaweng, Lamai and Choeng Mon. The island's most popular attraction is The Big Buddha.  It sits 15 meters tall and was built in 1972 by the local society to give visitors a place to pay respect to the Lord Buddha.
One of the most unique hotels I have ever stayed in is the Imperial Boat House which is situated on the North-East coast of Koh Samui. This hotel is set on the beautiful and unspoiled beach of Choeng Mon, 4 kilometers from the island's international airport. The hotel comprises 34 authentic teakwood rice barges which were converted into luxury suites and placed on the resort's gardens, as well as 8 low-rise accommodation wings. You can enjoy a really cool boat shaped pool, a beach bar, 2 restaurants and an air conditioned lobby lounge with live music. Since it was the end of our trip we stayed in one of the boat suites for a few nights and we give the experience our highest rating.
Boat Suites usually run between 110-275USD, per night, depending on the season. Compare prices and find the best deal at the Imperial Boat House.