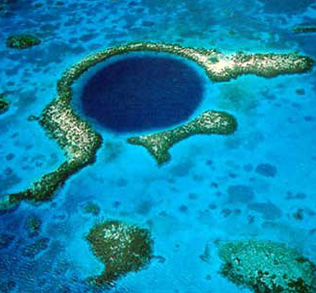 Belize has the largest Barrier Reef in the Western Hemisphere and second largest in the world, stretching on for almost a 180 miles. On the ocean side of the reef, you'll find the popular tourist spot, Lighthouse Reef Atoll. Located in the center is a circular hole known as the world famous Blue Hole. The Blue Hole is the largest ocean sinkhole in the world and was formed when the cavern's roof collapsed. If you are a scuba diver, this sunken underwater cave, more than 1,000 feet across and about 400 feet deep, is one of the most brilliant dive sites on the planet.
As you enter the water to begin your dive, you'll see beautiful coral formations before descending down the side of a barren gray rock wall. The lack of sunlight impedes coral growth on the walls of the hole. Other than a stray barracuda, with vicious looking teeth, you'll see few fish due to the lack of coral. After a rapid descent to one hundred and thirty feet, the rock wall gives way to an overhang. Beneath this overhang, you'll see the colossal stalagmites and stalactites, some over 25 feet in length, that line the outside walls of the cavern. Deeper than the recommended maximum depth for recreational divers, you only have about 10 minutes before breathing compressed air becomes dangerous due to the high levels of nitrogen that accumulate in the blood. Before the dive begins, your guide will survey the dive party as to whether you want to see sharks or not.  It is rare that a group votes down the opportunity. After your brief exploration and before you start your slow ascent, your dive guide will reach into his or her dive bag and chum the water. At this point, you'll have the chance to see an array of sharks which makes for a very dramatic dive. It is not uncommon to see Bull Sharks over 15 feet long, enormous Tiger Sharks, or heaps of Black Tip Reef Sharks.  From time to time, you may even see schools of Hammerhead Sharks exceeding a dozen. One dive guide said that "sometimes there are so many sharks that it's like a dream sequence".
Wind conditions can often lead to a very rough ride out to Lighthouse Reef. Be sure to bring some ginger of some sort, like ginger snap cookies, as it will help settle your stomach as 4 to 6 foot waves pound the boat during the two hour trip. Most trips leave around 6am, from Caye Caulker or Ambergris Caye, and include 3 dives (The Blue Hole, Half Moon Caye and 'The Aquarium' at Long Caye), a Continental Breakfast, and a nice lunch (rice, beans, salad and chicken) on Half Moon Caye before your return at about 5pm. This is a very long day that often leads to a very early night.