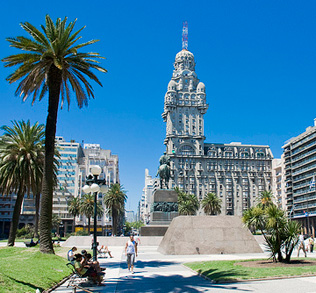 Known as the 'heart shaped country', Uruguay is a brilliant little spot in South America that is bordered by Argentina, Brazil and the Atlantic Ocean. While geographically Uruguay may be 'pint sized', its people, land, coastline, and attractions are immense. The many great beaches and hotels in Montevideo are perfect for those who want to forget about the rest of the world and relax while enjoying the beautiful oceanside landscape. Montevideo, one of the most intriguing capitals in South America, is a great place to explore Uruguay's architectural diversity and unique character.
In Montevideo, the old city is located between the Plaza Independencia and the port of Montevideo and is characterized by its many colonial Spanish and Italian buildings. During the day you'll find an interesting mix of business people along with artists and crafts people selling a number of different things. At night, especially on the weekends, many cafes, pubs and discos open their doors and the old city becomes the main gathering spot for people to have fun. It's not uncommon to dance and party with friends, new or old, until the wee hours of the morning. Before heading out for the night, be sure to fill your belly with some typical 'asado'. Uruguayan 'asado' consists of a variety of meat known as 'tira de asado' and is cooked over fire wood in special ovens called 'parrillero'. Typical Uruguayan food should be accompanied with a typical Uruguayan drink such as the 'clericó' which consists of a combination of different wines and fruit juices. Wine lovers must try the Tannat wine, which is traditional and recognized among the best wines in the world.
When visiting Montevideo you'll find luxury hotels and several beaches as you walk the 'Rambla'. Starting from the old city, walking east, one of the first beaches you'll find is Ramirez beach. This beach is located in front of the Parque Rodo, the main amusement park of Uruguay. Pocitos is perhaps the most popular beach in Montevideo and is surrounded by high buildings in a very active urban area. During summer months, this beach is usually very crowded with sunbathers, people playing beach sports, and friends simply having a drink with their mates. Our favorite beach is Buceo. Buceo beach surrounds a small port and is one of the most picturesque beaches in the city.
The best time to visit Uruguay is between December and February, which is their summer. If you want to escape the cold of winter and are looking for something a little different, then consider visiting Montevideo for lots of sun and fun.
The Best Deals on the Most Popular Hotels in Montevideo at hotels.brillianttrips.com. Read traveler hotel reviews, search multiple sites and more…