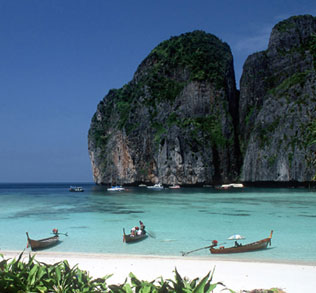 Just a short, 45 minute journey from Phuket, Thailand is one of our favorite places of all time; Phi Phi Island (Ko Phi Phi). As you sail in through the ridged limestone peaks ascending from the vivid turquoise waters that surround the islands, you will instantly know that you've arrived in paradise. The magic of the scenery makes many fall in love with its allure. There are no cars on the island and the smiling locals create an unforgettable village atmosphere. The producers of the movie The Beach, starring Leonardo DiCaprio, chose to film in the area because of the breath taking cliffs surrounding the beach like a fortress.
Phi Phi Island is home to some unbelievable water sports including diving, snorkeling, kayaking and, of course,swimming. There is also shark watching, cliff jumping, classes to learn fire juggling, massage courses and the usual PADI dive courses. Make sure you save some time to take a kayak around the island and explore its many coves and caves. This island is relatively unspoiled and people can enjoy all that Phi Phi Island hotels have to offer. The most memorable views can be seen at the View Point. There is a nice hike to the View Point, with some very steep stairs, but worth the effort. The view of the dumbbell shape of the village squeezed between Tonsai Bay and Loh Dalum and framed by the soaring cliffs is the scene postcards are made of. The Phi Phi Island Village Beach Resort And Spa is a great option if you're looking for luxury.
The nightlife on Phi Phi Island offers an exciting array of activities with plenty of clubs and bars lighting up the scene. The popular Reggae Bar complex is Phi Phi Island's biggest night spot. It has five bars, pool tables and Thai boxing three nights a week. One night while we were there, in between the real matches, they had some of the backpackers get in the ring to fight each other. It was actually quite hilarious and a lot of fun. The Karma Bar is the place where tourists can lie back and enjoy serene music on mats laid out on silky beach sand. What could make for a better night than warm breezes blowing in from the Phi Phi Island shores, a glass of wine and a sky filled with brilliant stars?
The local Thais we met here were some of the nicest people we have ever met on the road. Phi Phi Island was one of the places that was hit hard by the tsunami in 2004. Most of the island was destroyed and many lives were lost. Thankfully, it seems to have recovered well because, all in all, Ko Phi Phi is by far one of the most beautiful places we have ever visited.