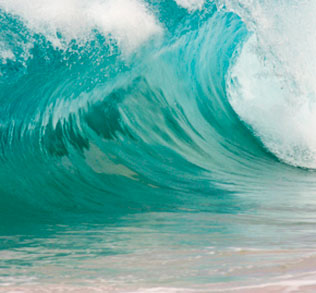 In search of the perfect wave? You may find it on Oahu's North Shore. Home to some of the world's most brilliant beaches and bays, the North Shore is the epicenter of big wave surfing. Modern day big wave surfing started in the 50's and 60's on Oahu's North Shore and the giant, sleek winter waves of this mythical surf mecca continue to attract the best surfers in the world. Stretching out over 7 miles, the beaches of the North Shore host the world's premier surfing competitions. In the winter months, the swells at world-famous surf spots such as Waimea Bay, Pipeline, and Sunset Beach reach 30 feet or more. In recent years there have been reports that the waves at Waimea have cranked up to fifty feet plus. The surf can rise quickly throughout the course of a day going from 2 feet to 25 feet high and larger.
Waimea Bay Beach Park is home to some of the biggest, most spectacular, dangerous, rideable surf anywhere in the world. When the surf's up, it often reaches thirty plus feet.  Even the inshore break can be as high as 12 feet. A strong rip current runs out of the center of the bay and can make things treacherous, so visitors need to use caution. Sunset Beach Park is one of the better surfing sites on Oahu, if not in the world, with 15 to 20 foot waves not uncommon during the winter. The Sunset Rip, which can be very dangerous, runs off the inshore reef; halfway between Val's Reef and Kammie Land.  Newcomers should check out where this and other hazards are. Perhaps the most dangerous surf spot in the world is the Banzai Pipeline. Located at Ehukai Beach, the merciless waves of Pipeline break 50 to 100 yards off the beach over a shallow reef.
The North Shore's white-sand beaches, crystal-clear water and romantic sunsets can be enjoyed year round. I've spent days here in the summer and didn't see anything thing that even resembles a wave. The Waimea Valley also has a beautiful botanical garden at Waimea Falls, where visitors can also visit ancient Hawaiian cultural sites. Ka'ena Point, to the west, is a great spot to enjoy a picnic lunch while watching surfers tackle the winter swells and gliders the skies above. In the summer, the waves subside creating the perfect spots for swimming and sunbathing.
While there are places to stay on the North Shore, I usually stay in Waikiki and drive up during the day. To book flights, accommodation or a rental car please visit BrilliantTrips.com.