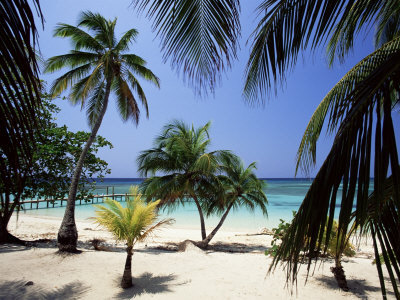 Beyond the tropical mountains' green canopies and whitewashed colonial villages of mainland Honduras lies the largest of the Bay Islands, Roatán. Often called the Caribbean's best kept secret, Roatán is home to pristine white sandy beaches, amazing tropical jungle covered hills, a diverse reef system and authentic Caribbean charm. A long island, measuring almost 40 miles in length with a mountainous backbone, Roatán is surrounded by coral reefs, offering superb diving and excellent fishing. Blue skies, turquoise water and a warm sun will welcome you to Roatan, an island with such wonderful beaches you feel like you are in an enormous, natural swimming pool.
Known around the world for its scuba diving, the reef surrounding the island attracts beautiful tropical fish and snorkelers alike. Dive attractions include sea walls, shipwrecks, and night diving. Sea turtles, dolphins, and whales can all be seen in the waters of Roatán. Fishing charters offer trolling or bottom fishing and are available from 2 hours to a full day. Fishing options include barracuda and tuna all year round, plus wahoo and dorado from September to February.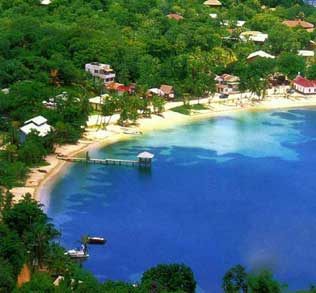 The area known as the West End is a must see with its beautiful beaches, restaurants and numerous activities. Take a tour on the glass bottom boat, ride in a mini-submarine, scuba-dive, or rent an ocean kayak. At night, the West End turns into the liveliest area on the island where you can have fun until late at night. Gumbalimba Nature Park, located in West Bay, offers a variety of activities. The Canopy Tour includes a 300 foot hanging bridge over a lagoon that provides a brilliant adventure to all who cross it. Beach activities include snorkeling, snuba and a variety of boating options, such as wave runners. The largest group of horses on the island call this park home which makes for great horseback riding. The highlight of the park is an extensive bird collection that includes two different species of macaws native to Honduras and several different species of parrots. The birds are trained to be free and interact with the visitors to the park. Sandy Bay is the cultural center of Roatán. It is here where the Institute of Marine Sciences, The Roatán Museum, the Carambola Gardens and Marine Reserve are located. Parrots, iguana, and monkeys live in the wild on this tropical island.  An iguana farm east of French Harbor provides a refuge for thousands of iguanas and is also open to tourists.
A trip to Roatán will satisfy the most active and adventurous travelers.