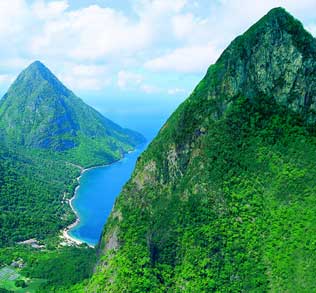 The natural beauty is mind-blowing. Surrounded on one side by the clear blue Caribbean Sea and on the other coast by the rougher Atlantic Ocean, lush green volcanic mountains seem to lunge out from the waters. The image of The Pitons, St. Lucia's most famous landmark is best viewed from Mt. Gimie or from a boat offshore. The pristine twin peaks top 2,000 feet and only the most courageous climbers have pursued an ascent to their summits. Reduit Beach is acclaimed for its long white sandy beach secluded by tropical greenery. Although the beach is crossed by the waterway to the marina (close to Gros Islet), the beach stretches all the way to Pigeon Island. South of Gros Islet you will find many large hotels and water sport facilities. North of Gros Islet, you see nothing but sand and trees until Pigeon Island. Take a taxi ride into the capital of Castries where you'll see locals bustling around stands selling fruit, fresh fish and Piton beer.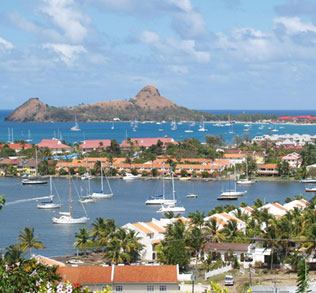 In St. Lucia you can immerse yourself in a world of incredible beauty and extraordinary biological diversity. Knotted and twisting vines snake to the top of old trees and dense vegetation becomes lost in the flowers that radiate on the branches. Dark brown cocoa pods hang from the trees along with green mangos, papayas and bunches of bananas. Nurtured by warm, gentle rains and rich volcanic soil, St. Lucia's forests have attained a state of sublime ancient majesty. The Barre de L'isle Rain Forest Trail which runs along the perimeter of the rain forest is a must. Climb to the top of Morne la Combe, a mountain towering 1,446 feet. The Barre de Lisle ridge offers panoramic views west to the Roseau and Mabouya valleys and the walk takes about three hours.
St. Lucia's Jazz Festival has become one of the major events on St. Lucia's calendar. During the month of May, the island moves to the music. When the beat of jazz fills the air, tourism takes on a whole new meaning to all. What originated as a simple marketing event to boost the tourism industry during low season period, has now developed into a true part of the St. Lucian culture.
For St. Lucia hotel information, please click here.