@BrilliantTips any idea where to go snowboarding, starting on monday – nothing booked yet ?
If I had the opportunity to leave the office and go skiing in Europe next week, it would be tough to pick one out of these three happening European ski destinations.
Livigno, Italy offers a fun, laid-back environment that draws a mostly young, budget conscious bunch of skiers. If you can get over the fact that there aren't any five star hotels, Livigno has everything you need, from great restaurants to accommodations that fit any budget. There are two main streets that run through the valley with skiing on both sides. Hotels, restaurants, ski schools and shops extend along the two main streets. With 100 kilometers of perfectly groomed runs and lots of sun, Livigno offers big value and great fun.
Framed by rugged mountains with snow covered scenery, Kitzbuhel, Austria, or Kitz, is the 'granddaddy' of Austrian ski resorts. Kitz is hot, hip and happening. It's also expensive. Located just 90 minutes from Munich, Kitzbuehel offers perfect skiing conditions on over 150 kilometers of ski runs for all levels of ability. Noisy pubs, chic clubs and quiet local watering holes make up this beautiful Alpine town and the perfect European ski setting.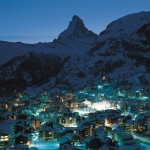 Zermatt, Switzerland is often considered the best and most beautiful ski resort in the entire world. Offering spectacular views, the lovely village of Zermatt is nestled in a deep valley dominated by the majestic Matterhorn. I sent a close friend here on a ski trip, by himself, and he said that as soon as he stepped off the train and caught a glimpse of the Matterhorn, he knew I'd sent him to the right place. Zermatt is a world without cars. The only transport allowed are electric-cars and horse-drawn sleighs and carriages. Superb snow conditions blanket three ski areas that make up over 300 kilometers of ski runs for all skill levels.
If I were in your shoes, I'd head to Livigno and book your travel arrangements at BrilliantTrips.com.
Click here for Rail Europe