Where I've Been is a social networking application that lets you keep track of your adventures around the globe and share them with friends. Best known for its travel application on the web, their maps can be seen on over 5 million social network profiles on Facebook, MySpace, Hi5, Friendster, and Bebo and the stand alone site. Each user gets their very own compact world map that allows him or her to highlight the countries they have been to, have lived in, or want to go to. This personalized map can then be quickly and easily posted to the user's profile and shared with friends. Currently, Where I've Been are working on launching a new travel platform. The new platform will allow users to search, review and find city-specific information, globally and locally!
If you're a trivia buff, you'll enjoy Where I've Been's "Question of the Day". It has become very popular in our office and we've noticed that quite a few of our friends are ranked quite high in the Top Score rankings.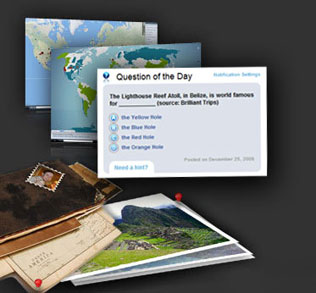 We've mentioned in previous blogs how much we love Twitter for its ability to help us keep our followers up to date on what's going on with our company. Since Where I've Been thrives on maintaining an active community, it didn't surprise us to find them on Twitter. If you'd like to follow their updates, as we do, you can find them here: www.twitter.com/whereivebeen
So go to www.whereivebeen.com, sign up for free and you're ready to go. All it takes to become a member is a passion for travel and the will to communicate and share information with like-minded travelers. We love Where I've Been because they provide a community where travelers share stories, adventures, and experiences with fellow users. If you're a traveler but not yet a member, what are you waiting for?