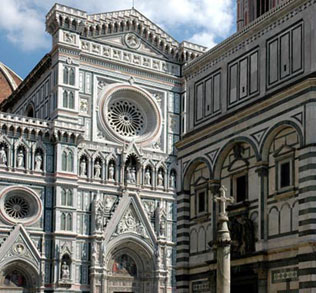 I've compiled a list of 5 unique hotels in Florence, Italy that are 200USD or less. Picking the right hotel to stay at is a very personal thing that many people are very passionate about. Personal taste is an important variable in picking hotels and I would note that I would chose a hotel based on location first and amenities second. Each of these hotels are places that I would personally stay at.
Hotel Degli Orafi – This hotel is in the center of Florence, next to the gallery of the Uffizi, opposite Ponte Vecchio and the Corridoio Vasariano. The hotel has 42 rooms: 7 single rooms, 14 double rooms, 15 executive rooms, 5 luxury rooms, and "the room with a view".  All rooms have a private bathroom with a bath or shower.
Residence Michelangiolo – Residence Michelangiolo welcomes its guests in a villa dating back to 1917 that has been totally and tastefully renovated while maintaining its original charm and elegance. The residence is surrounded by a lovely landscaped garden and is only minutes away from Piazzale Michelangelo, the historical center of Florence, and monuments like the cathedral, Ponte Vecchio, Palazzo Pitti and Palazzo Vecchio. Residence Michelangiolo offers guests a unique accommodation experience for an unforgettable holiday.
Hotel Casci – This is a small, family managed hotel in the heart of Florence inside an ancient palace where Gioacchino Rossini lived.  It is located just a few steps from the Cathedral, the Accademia Gallery (David) and from all monuments and museums. The hotel is easily accessed both from the main railway station and by car (with a garage nearby). All rooms have en-suite private bathroom and a buffet breakfast is served in a fresco decorated room. There's a free internet point in the lobby.
Cosmopolitan Hotel – In the center of Renaissance Florence stands the Cosmopolitan Hotel which opened in 2006. The hotel is a pioneer in its class having brought the concept of the boutique hotel and the most avant-garde in luxury together in one tranquil, soothing environment. The Cosmopolitan is a contemporary boutique hotel situated in Florence's business district.  It is four kilometres from the Accademia Gallery (home to Michelangelo's famous statue of David) and many of Florence's other historic sights. This is probably the 'coolest' hotel on this list, but also the furthest from the city center.
Hotel Caravaggio – Hotel Caravaggio is a very basic hotel. Situated in a palace of the 19th century in the center of Florence, Hotel Caravaggio is within walking distance from the Central railway station of Santa Maria Novella. It is also very close to the monuments and museums including Accademia Delle Belle Arti where Michelangelo's David is kept, Cathedral Duomo, Uffizi Museum.  All 37 rooms are equipped with private facilities and internet access.There is also an internet point located in the lobby with high speed internet access.