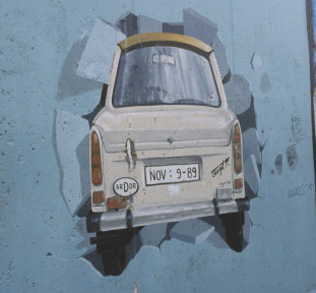 Getting around Berlin on 40EUR a day can be tricky and needs to be carefully thought out. Here's how we would attempt to do it:
Transport: For travel within central Berlin, buy a day pass that covers zones A&B for 6EUR.
Breakfast: Pick a random spot of interest that's close to where you are staying. If breakfast is included with your accommodation, take advantage of it and use the 5EUR or so you save for something else.
Morning Activity: New Berlin Free Tours offer a free walking tour of Berlin. Expert guides share their personal stories and insights during an appealing three and a half hour tour in English. These guides work for tips, so they work hard to ensure each tour is consistently one of the best in Europe. Tours depart at 10:30am (or 1pm) outside of the Dunkin' Donuts opposite Bahnhof Zoologischer Garten. We would recommend a 5EUR tip. See what other people have to say about the Free Tour.
Lunch: Grab a snack at one of the Turkish Imbiss stands or check out mensas (student cafeterias) for 5EUR.
Afternoon Activity: Visit a free museum, like the Berlin Wall Documentation Center or The Allied Museum. You could also explore the city and its many parks on your own.
Dinner: Go to Prenzlauer Berg and walk around the countless pubs, restaurants, cafés, galleries and shops. Typically, the nighttime atmosphere is unrivaled in the rest of Berlin. Along with Schöneberg and Mitte, Prenzlauer Berg is a focal point of Berlin's art scene. Select a spot that suits you and spend 14EUR on you meal.
Night: With 5EUR left, the cheapest beer we found was at Offside Jülicher Str. 4 13357 Berlin at 0,5 for 2.30EUR.