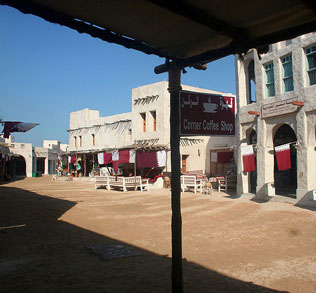 Recently named by the New York Times as the Cultural Destination of the Year, Doha, Qatar is a mixture of old and new, traditional and modern. The Corniche of Doha is one of the most famous waterfronts in the Middle East. Strolling along the seafront, you will be struck by the expanding and rising urban skyline on one side, while dhows line the quay on the other side. It is a popular spot for people to hang out, work out, go fishing, go for a stroll, or just watch others.
Difficult to miss, the huge Souq Waqif is a renovated Arabic market with narrow pathways that will keep visitors busy for hours. A huge range of shops sell dried herbs and spices, colorful dresses and even falcons (yes, the bird). Men with white beards and turbans wait in the pathways with wheelbarrows, ready to carry your purchases. After walking around, sit down to smoke a Sheesha or enjoy food at one of the bordering restaurants.
There's a huge range of restaurants to choose from in Doha. The Al Majiles Al-Arabi Restaurant, Al Sadd Street – Souq Ali Bin Jassim, is a good Arabic restaurant with a large menu. Portions are large and whatever you order comes with a huge pile of freshly baked Arabic bread. Do note, however, that public restaurants do not have alcohol licenses. If you want a drink, you will have to eat in a club or a hotel.
The Al Mourouj Inn Hotel (115USD p/n) offers an ideal location to the Museum Street, just behind the National Museum of Qatar. From the hotel, the market, business and entertainment areas are within easy reach. While certainly not the best hotel in Doha, The Shezan (100USD p/n) offers accommodation close to central Doha (about 3km) and is ideal for those on a tight budget. The area contains very little within walking distance, but the main shopping center, souks and other places of interest are, approximately, a ten minute drive. These hotels can each be booked at BrilliantTrips.com.