If you wish to have a true cultural experience, nothing beats getting off the beaten path. Driving your own car is a great way to go. There are rental car companies in Japan which specialize in servicing tourists. If driving on the left side of the road with right hand drive cars intimidates you, don't worry about it. You'll get used to it quickly. Driving within Tokyo and other big cities and driving out in the countryside of Japan are vastly different experiences. Roads in Japan tend to be narrow. Once you're outside the big cities, driving can be one of the best ways to see Japan. Though all forms of transportation in Japan are extremely efficient, it is refreshing not to be controlled by the timetables of buses or trains. Before leaving the major cities of Japan for the countryside, get "cashed up" in Yen as rural Japan is a mostly cash only society with few ATMs. The countryside is highly recommended if you have time as it is riddled with hundreds of volcanoes and hot springs overlooking pastoral paddy fields. Parks are festooned with rigidly raked white gravel Zen gardens or coated with layers of lilac and cherry blossom. Read on for just a few of our recommendations.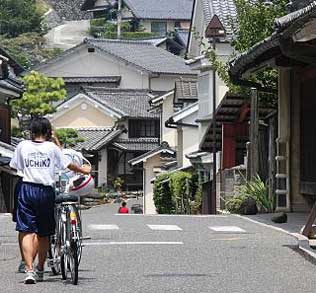 The traditional town of Uchiko is surrounded by much natural beauty and is located about 42 kilometers southwest of Matsuyama in the Ehime Prefecture. Three streams run through the area: the Oda, the Nakayama and the Fumoto. Uchiko has few flat areas and about 70% of the land is forest. Now a vestige of traditional, rural Japan, Uchiko was once a prosperous center of wax and paper production. One of the town's main attractions, the Kamihaga Residence, explores this historical industry. Yokaichi Old Town is Uchiko's preserved street of houses where most of the town's attractions can be found. This historical district looks just as it did over 100 years ago, when wealth and prosperity came to Uchiko through its wax trade. Another symbol of Uchiko is found outside of the old district: Uchiko–za. It is a full scale kabuki theater equipped with trap doors, hidden entrances and a rotating stage.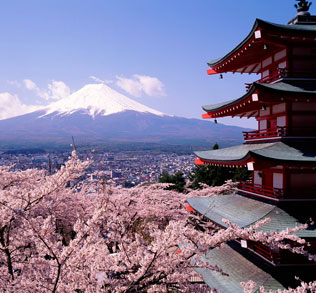 Located 62 miles south west of Tokyo, Mount Fuji can be viewed on a day trip from the city. Mount Fuji is considered a sacred mountain and is the highest mountain in japan at over 12,000 feet. Mt. Fuji is located in Fuji-Hakone–Izu National Park. It is covered in snow for several months of the year and many hike up the mountain in the summer months. Just to south of Mount Fuji and worth a visit is Suruga Bay. Mount Fuji rises from the bay. It is a natural wonder with canyons, plateaus and a rich seabed. There are both rocky and sandy coastal area surrounding the bay. For all these reasons, it is popular for research, fishing, swimming, windsurfing, boating and diving.
Tottori Prefecture is located in the western part of Honshu, the main island of the Japanese archipelago in the northeastern part of the Chugoku region. It is a long and narrow prefecture, spanning approximately 120 km east to west and between 20 and 50 km north to south. The northern part of the prefecture faces the Sea of Japan, bordered by a beautiful coastline decorated with green pines and white sand, including the Tottori Sand Dunes. To the south lie the Chugoku Mountains and the greatest peak in the region, Mount Daisen. Within the diverse topography of these mountainous areas, there are three major river basins in which open plains have formed. The prefecture's central cities, Tottori, Kurayoshi, and Yonago, have developed in these three basins. The prefecture's climate is relatively warm and displays brilliant changes between the four seasons, with mostly good weather between spring and autumn and snowfall in the winter. Moreover, because it suffers few typhoons and other natural disasters, Tottori truly has gentle climactic conditions.
If you do decide to drive, here are a some driving tips: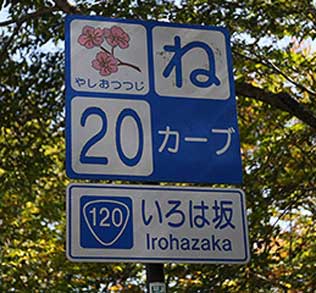 On main roads, most major destinations are sign-posted in English. In rural areas this may not be the case. If you are planning to drive in more remote areas, it is advisable to purchase a reliable English-Japanese road atlas before you depart. Companies such as Shobunsha and Kodansha publish these atlases. Driving in Japan is on the left. Parking can be difficult to find in some urban centers. An International Driving Permit is required. Tolls are levied on expressways and other major routes. Toll charges will depend on how far you wish to travel and which roads you intend to take. For example, tolls for one route from Tokyo to Kyoto cost approximately 4,770 Yen. The Japan Automobile Federation (JAF) publishes an English guide to driving in Japan called "Rules of the Road". These are available at JAF offices throughout Japan. For further information go to the JAF web site. Observe traffic rules for your own safety. There is no turn on red. Before going through any railroad crossing, stop the car and make sure it's safe. Speeding, illegal parking and other violations of traffic laws are strictly enforced. Punishment for drunk driving, among other offenses, is particularly severe. So make sure you do not drive after drinking.
No matter where or how you travel in Japan, you will be delighted by the old traditions meeting futuristic ways as well as by the amazingly diverse terrain.