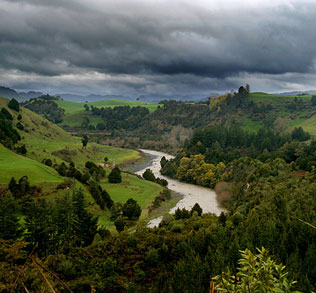 If you have an interest in The Lord of the Rings and you want a unique experience in Wellington, New Zealand, then this is the tour for you. This great day tour from Wellington Rover visits locations in and around greater Wellington that were used during the filming of The Lord of the Rings movies. The full day tour includes visits to 25 locations, an "Orc" sized picnic lunch, a souvenir map, and a friendly storytelling guide who takes you to the scenery of Middle Earth, Wellington. Spend time on location at scenes from the film such as the Race to the Ferry, Bree, Rivendell, Isengard, and Helms Deep.
Travelers are picked up at their accommodation location around 8:30 am and spend the morning exploring the city locations, Mount Victoria for spectacular views of Wellington, then the "greenbelt" where travelers take a one hour walk through the "Shire". A world famous picnic lunch is served in Kaitoke Regional Park under the elvish trees of the Rivendell location.  The lunch is followed by a 45 minute walk through the New Zealand native forest.
The tour departs Wellington daily at approximately 8:30 am and returns at approximately 4:30 pm. The pickup location for the tour is confirmed at time of booking. Travelers interested in taking this tour can book it here.