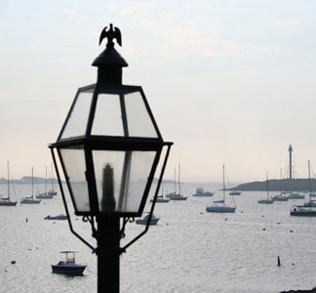 Earlier this morning I noticed that #whereiwork was a trending topic on Summize. So I figured that I would participate by putting together a quick post about where I work. Our office is located at 89 Front Street in Marblehead, Massachusetts; a small coastal town located about 15 miles north of Boston. Marblehead is known as the "Yachting Capital of the World" and is famous for its unrivaled contributions to the American Revolution. These days, its charming narrow streets and notable 17th and 18th century buildings echo Marblehead as it has existed since its founding in 1629.
According to Marblehead.org: "Marblehead's seafaring history played an important role in the formation of our great nation. Becoming disenchanted with the control and increasing taxation that the British were imposing over the colonies, locals were readying themselves for a revolt. Marblehead resident Col. John Glover organized a Marblehead Militia and was officially commissioned as head of the 21st Regiment on June 16, 1775, the day before the infamous battle for Bunker Hill. After Glover and his Regiment fought several skirmishes on land, General George Washington and Congress commissioned Colonel Glover to lease and arm merchant vessels. Colonel Glover commissioned four additional vessels into what he called 'ye navy.' Three of these now-naval vessels were captained by Marbleheaders and were crewed by Marblehead mariners. America's, and Marblehead's, new naval fleet was now ready to take on the powerful British Navy. Thus, Marblehead claims the disputed title of the Birthplace of the American Navy."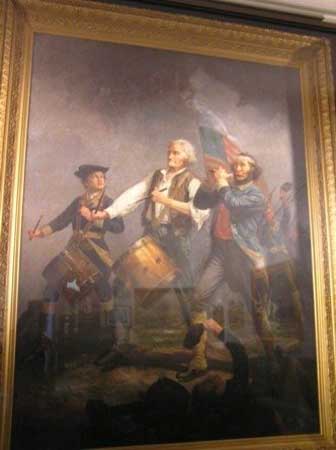 The site goes on to add: "Today, Marblehead Harbor boasts one of the finest displays of sailing craft anywhere. Over the years the harbor has been both the starting and finishing port for numerous international races, including races between Marblehead and Kiel, Germany; San Sebastian, Spain; and Bermuda, as well as other national and international competitions. An annual race between Halifax, Nova Scotia, and Marblehead, which began in 1905, continues to this day. And the yearly mid-summer Marblehead Race Week competition, which dates back to 1889, still attracts yachtsmen from around the world."
Marblehead is also known as the Birthplace of Marine Aviation. W. Starling Burgess designed and built the first biplane – The Flying Fish – at his Marblehead boatyard. His obsession with air flight led him to build a "flying boat" with the first model taking a test flight over Marblehead Harbor in 1911. In addition to serving as the seat of Marblehead's town government, Abbot Hall contains the original Spirit of '76 painting by Archibald MacNeal Willard.
If you're ever in the area, feel free to contact us and we'll take you for a quick tour.