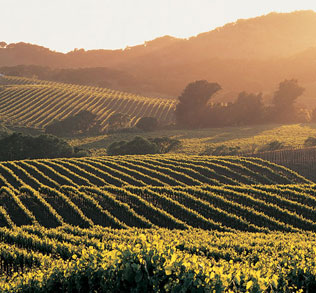 Last fall, a lifelong friend of mine took a trip to Napa with a his new girlfriend. Upon his return, he contacted me immediately to share a true gem of a find that I should be aware of. He soon put me in touch with Gordon Larum of Eye on Wine Tours and it didn't take long for me to became a big fan. "Gordy" will pick you up and drop you off at your hotel and during the course of the day visit 4 to 5 wineries. Most of the wineries he'll take you to are "off the beaten path," yet of the highest standards and good value.  Gordy is very personable.   He'll make you laugh and he is an incredibly gracious host who knows all the right people.  "He was conversational, funny and extremely knowledgeable as we broke the ice on the way to the first winery."
On a day out with Gordon, you'll bypass the tourist traps and visit some of the less commercial, smaller wineries for the true tasting experience and, as Gordy would say, "killer wines." This experience could include drinking on a mountain or in a tasting room or on a deck while eating grapes from the barrel. The staff at the wineries are friendly and you may even go on a few private tours. He has great stories about the region and about life in general.  He may share stories from his trips to the the Midwest and of how proud he is of his sons as they carve out their niche in NorCal and Wine Country. Gordy is even known to take a quick side trip between vineyards to allow a photo opportunity of a redwood that has split.  He calls it "trippy" and "cool" and, if you're lucky enough to see it, he's not kidding.  It is quite a sight.
I highly suggest you consider heading out with Gordy whether it's your first time to that area or your hundredth.  For more information please contact us at info@brillianttrips.com.