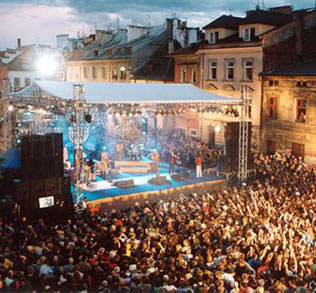 One of the biggest events of its type in the world, the 28th Annual International Sea Songs Festival begins next week in Krakow, Poland. In spite of its land locked location, Krakow has hosted one of the most popular shanties festivals since its inception in 1981. The first festival, held in the cellars of a community center, was an intimate gathering that included members of the organizing committee and an audience of only about 100 people. In 1987 the organizing committee invited guests from abroad and, since then, the festival has evolved from a small event into one of the biggest shanties festivals in Europe. For Krakow, the festival has become an important landmark for the cultural events scene.
People from all over Poland and Europe now come to Krakow to sing about sea adventures and voyages. During the four day festival, over 11,000 people of all ages participate in concerts at the Rotunda Community Center and the Stary Port Tavern. The Festival gives festival goers the opportunity to listen to many groups and performers. Each year the festival is organized under a different motto, which is often based on events from marine history.
Additional events related to the festival include: Trade Fair for Sailing Krakżagiel; sailing races; marine photo exhibitions; meet and greets with famous sailors; and more.