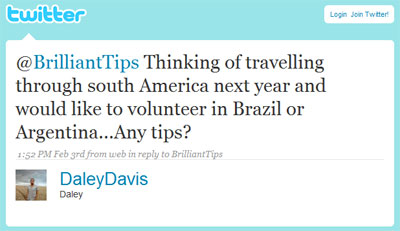 Getting involved with one of these five meaningful volunteer projects in Argentina, will change the way you look at the world. Travelers on any of these five trips will gain an entirely new perspective on what can be accomplished during a single travel experience. i-to-i Travel is an international volunteer vacation provider that does more than half of its business each year with students. Here are our "Top 5" trips for those looking to get more out of their travel experience to Argentina.
Animal Rehabilitation Work in Posadas – Argentina may not be the first country that springs to mind when you think of South American wildlife havens, but it actually boasts larger natural contrasts than any of its neighbors. El Puma Ecological Park in Argentina's laid back provincial capital brings you face to face with the animal rehabilitation results as it nurses sick and injured animals back to health before releasing them back into the wild. The project also runs a breeding program to increase animal numbers, so there's a lot to keep you busy.
Coach Soccer in Posadas – Growing populations in the suburbs combined with a spluttering economy means that many children experience social deprivation. This project, in the lively city of Posadas, gives the children something to look forward to while keeping them fit and healthy. It doesn't matter if you're not blessed with natural talent because the daily contact with native English speakers and the chance to experience an exchange of cultures is just as valuable as the sport itself.  Besides, as they're Argentinean, they'll probably be able to teach you all you need to know on the football field anyway!
Community Work with Orphans and Underprivileged Children in Posadas – While working with children in the busy city of Posadas, you'll develop teaching, sporting, dancing and singing skills as you help young orphans at one of two children's homes. This is the perfect project for you with an unbeatable opportunity to make friends and make a difference. Despite its bright modern cities, Argentina still has lots of orphaned children in need of a little love and attention as well as access to educational opportunities through English language lessons. There will be plenty of time to do what children do best and it won't be long before they rope you in to all sorts of sports, singing, dancing and drama.
Teaching English at a Bi-Lingual School in Buenos Aires – With half the curriculum being conducted in English, native English speakers are in great demand.  Don't worry, it's not you who has to be bi-lingual. The school has recently won an international award for excellence in education, so it's the perfect place to try out all those skills you've learned on the TEFL certification, which is offered free when you volunteer. If you manage to wrestle your way free from the children, who by now will have you coaching them soccer and rugby in your spare time, you can explore the wonderful city of Buenos Aires.
Community Work with Children in Buenos Aires – Stretching along the Rio de la Plata, the energetic city of Buenos Aires is the gateway to Argentina. You wouldn't know it from the way they dance the Tango, but recent chronic economic problems have created a lingering poverty in the city that has proved hard to beat.  This is where you come in. When hard times come to South America, it's usually children and wildlife that bear the brunt.  This is why i-to-i has projects that focus on both.  However, if you're a people person, this is the project for you.
ALSO SEE: Top 5 Meaningful Trips to Brazil