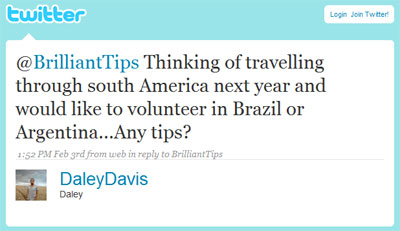 Getting involved with one of these five meaningful volunteer projects in Brazil, will change the way you look at the world. Travelers on any of these five trips will gain an entirely new perspective on what can be accomplished during a single travel experience. i-to-i Travel is an international volunteer vacation provider that does more than half of its business each year with students. Here are our "Top 5" trips for those looking to get more out of their travel experience to Brazil.
Carnival Preparation in Rio – This is a unique opportunity to take part in a cultural exchange program in which you will be exposed to the culture of carnival and an excellent way of gaining work experience and insight into the Rio Carnival. Show off your artistic skills and enjoy a once in a lifetime opportunity to be involved in the greatest street party in the world. Samba and sway your way through the streets and experience Carnival from the inside out. Activities range from designing costumes and floats to helping build the stage.
Work Experience at a Surf School in Rio – The famous Ipanema beach proves to be a beautiful backdrop for 2 weeks of surfing. You'll receive expert instruction that you'll later share with local youngsters. This is the perfect project for those who wish to combine combine work experience, volunteering, teaching and sport. Test out your Portuguese on the local kids before hitting the host of cool bars lining the beach and exploring one of the world's greatest cities.
Favela Renovation in Rio – This is a wonderful opportunity to improve the physical and social conditions of life in the favelas and catch a glimpse of a world normally hidden from tourists and travelers. This project mixes hands on work renovating local buildings with attempts to educate youngsters about sexual health and the dangers of drugs. Your daily experience will vary from painting, cleaning, and gardening to developing community events within the renovated public spaces.
Teach English in Rio – This is a great opportunity to teach English in the heart of Rio's favella communities. Rio is always striking, but not always for the right reasons. Much of its population live in inadequate housing and have no access to the opportunities most take for granted. Working with one of two organizations, you can make a real difference at a grassroots level, equipping children and adults with the language skills necessary to build better and brighter futures. This project plays an important role in helping them to find alternatives to a life of violence and crime.
Community Work with Young Children in Rio – Use dance, sports and the arts to provide education and support to children from the city's favelas and gain a very different view of life in one of the most vibrant cities in the world. Your perspective will change on everything from the children, to the city of Rio, the culture, the food, and the music. This is a very rich and colorful experience where so much happens, both on the project and in life outside.
ALSO SEE: Top 5 Meaningful Trips to Argentina