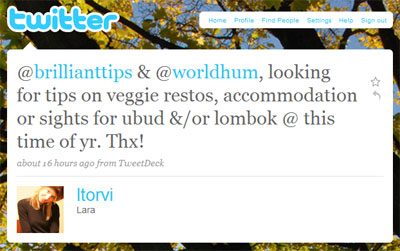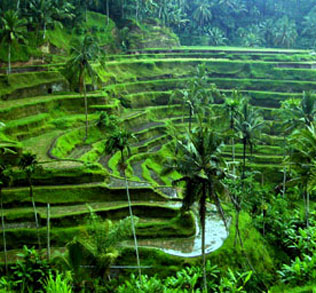 Amid the terraced ricescapes in the middle of the island of Bali, in Indonesia, is the town of Ubud . While there are plenty of good times to be had in Kuta, Ubud is the best place to stay if experiencing authentic Balinese culture is what you're looking for. A vibrant center of art and culture, the town has a wonderful variety of cozy bungalows, art museums, cafes and nice restaurants. The inspiring hillside setting overlooking lush rice paddies is a haven for nature lovers and culture vultures. While there are plenty of interesting things to do on the main streets, there is magic hidden away. My favorite thing to do was walk and bike through the many wonderful paths that veer off in many directions. Rent a bike and head out to experience the jungle gorges, local villages and rice terraces. It's a great way to see the area. The most popular attraction in Ubud is the well preserved jungle in the middle of town called the Monkey Forest. Visitors will have no problem spotting monkeys walking around the nature reserve and temple complex.
I recommend staying at the Sahadewa Resort and Spa. This boutique hotel, built in Balinese style, is situated in the center of Ubud within walking distance of the Monkey Forest, art shops, cafes and restaurants. Surrounded by tropical gardens, the Sahadewa boasts rooms decorated in traditional Balinese style and a small, well-kept, swimming pool. Don't miss the view of the sun setting over the surrounding rice fields as it is a sight to remember.
Ubud has a reputation of having the best food on Bali. You'll find that trendy cafes as well as health food and vegetarian restaurants are all very popular and plentiful here. Ary's Warung is a classic sidewalk bistro in a great location with creative cuisine and a choice of interesting vegetarian dishes. Cafe Tutmak is a hip espresso place, and popular hangout, with excellent food and on occasions has live acoustic music. The nightlife isn't as wild and crazy as Kuta because it's largely inhabited by artsy tourists having fewer bars and more cafes. There are no discos or full-fledged night clubs, but there's plenty of dynamic conversation and acoustic music to entertain.