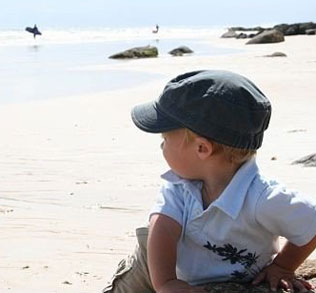 After my first son was born, the idea of traveling with him and sharing new experiences together was exciting to me. Many new parents tend to debate whether or not they should wait to travel with their new children until they're older and can take more in, whether or not all the stimulus and schedule change is fair for the children, whether or not it is safe to travel, and whether or not it is worth the anxiety of the travel to and from the destination. This was never a debate for me.  I wanted to jump right into travel mode with my son.  However, I did have the following questions which I think are typical of new parents: Would my son be too young to take any of it in? Would we be able to survive the flight thinking about the poor passengers around us having to listen to a crying baby? How long a flight could we handle? What medical items should we pack in case of an emergency? How would a hotel work out with a baby?
Our new family took quite a few road trips along the eastern seaboard before embarking on an airplane journey. In the car, our son slept well most of the time, as most babies do. We just pulled over every so often to feed him and change him. The hotel stays were easy enough also, so now it was just a flight experience we needed to conquer to prove to ourselves that travelling was something that need not be put on hold because a new being has entered our life. Rather, travelling with a wee one is something to embrace as your view of the world takes on a whole new perspective when you see it through your child's eyes. At the 2-6 month stage, we lucked out with our son sleeping soundly to the engines humming on 6-7 hour flights from Boston to California and to Ireland. The only bump I recall is when my husband was stuck changing a "poopy explosion" diaper in the lavatory as the plane was on its final approach for landing!  Once on land, there was a lot of napping in the baby carrier and stroller (including at a nighttime jaunt to the pub in Ireland).
With our son nearly 2 years old, my family braved the flights from Boston to Brisbane, Australia and a drive onwards to Byron Bay. Again, we more than survived the journey.  In fact, it was surprisingly smooth and uneventful. There happened to be a few other kids of similar age hovering around the plane and we seemed to congregate for short "playdates" near the bathrooms every so often. Not bad at all (keep in mind that the mind is very good at remembering the good and forgetting the bad). I don't know when a child's memory goes from none at all to bits and pieces of memory. My now four year old son seems to remember parts of this trip to Oz. I like to think that travelling as a child is like learning a language. The younger the child learns, the quicker and easier it is for that child catch on.
Based on our own experiences, I've decided to create a list of five interesting trips for flashpackers who have recently started a family. Really, I think you can go to any location with the right attitude and with a bit of preparation and tap into endless walks, sights and activities.  These five just happen to be some of our personal favorites.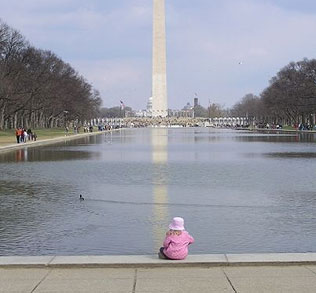 Washington, D.C. is a great walking city with lots for kids to see and do. There are lots of free museums like the Smithsonian to take advantage of. The museums are great for taking in while your child naps. If you have an older child, you can always create a hide and seek type of game. Show the kids a photo from the museum brochure and have them search the museum for the painting or sculpture.  One cool museum, which is only free if you're under 5 years old, is the International Spy Museum.  It's right by Ford's Theater and worth a visit, especially if you have older children.  Of course, if you go when the weather is nice, there are endless monuments to visit and historic locations throughout D.C. to see by foot with a napping baby in tow.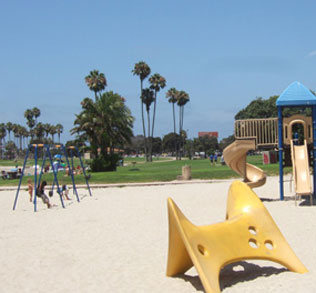 San Diego, California is a great place to play on the beach, spend a day at the world famous San Diego Zoo or Seaworld, and break at numerous playgrounds. View the seals in their natural habitat in La Jolla and visit the museums at Balboa Park. San Diego has a very casual atmosphere with an endless amount of activities for young children and adults alike.  One book on the area that my husband and I loved to use when we lived there is Afoot and Afield in San Diego County.  This book has lots of great hikes and walks if you're up for the baby carrier or baby backpacking experience.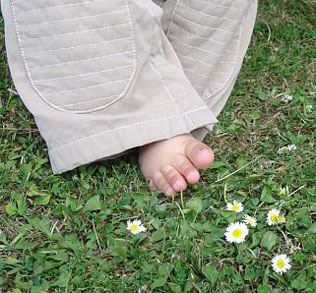 Ireland is another great place to take children. The numerous castles are great for the imagination, exploring and picture taking. Renting a car and driving around this Emerald Isle is great for naptime. The colorful towns dotting the island will intrigue a tiny tot. Of course a trip to Ireland is not complete without frequenting the pubs. Thankfully, the pubs are family friendly, so you can have some hardy Irish grub while enjoying a pint and perhaps a "sippy cup o'water".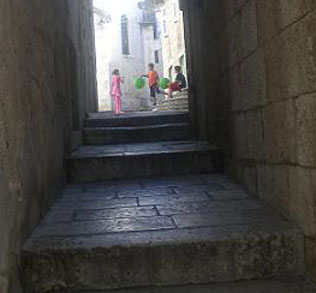 Dubrovnik, Croatia is a magical place with lots of walking and exploring opportunities. If you can manage a baby carrier, this is the best way to go as there are lots of cobbled walkways and lots of stairs for exploring the medieval, walled city. We saw many families congregating in the plazas; tots on trikes while mom and dad sipped their coffees. The sounds of the city's numerous bells make you feel like you're in a storybook. When you're ready to leave the shiny, limestone streets (which look like polished marble) of Dubrovnik, hop aboard a boat to visit some of the Dalmatian islands to see picturesque settlements and enchanting vineyards.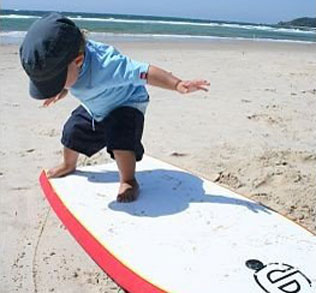 Byron Bay, Australia boasts miles of sandy beaches, outdoor markets, plenty of playground time and numerous adventures to be had. Our then 20 month old hiked the entire way up to the famous lighthouse from Wategos below. This was a great adventure for him and tuckered him out for a good nights rest.  On this particular trip, we rented a great house that provided us with a crib, beach toys, games and all kinds of kid friendly perks.  We used this house at Tallows beach as our base and explored from there.  For the avid surfer, the location was great as you could walk your board over to the beach for a surf at anytime.  We even took advantage of local activities such as visiting a local firehouse on a day for kids and watching our son dance to a digeridoo at the farmers market.
Do you have a great destination that you've experienced with with children? Please share your tips.