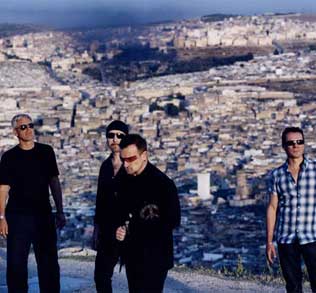 After a listen to and a look at the new U2 album "No Line on the Horizon," I was immediately drawn to the sounds and images of Fez. After writing a bunch of new material in Ireland and France, the band traveled to Fez, Morocco and rented the Riad in Batha. They chose the city of Fez to record in as it was home to the annual Festival of World Sacred Music and the band felt that it was a perfect setting to sample some indigenous North African music. "The Festival of Sacred Music was a big lure for us and for Brian (Eno) who has been very interested in Arabic music for years," Bono said. "We felt we might meet some interesting musicians while here – and we certainly have."
As you arrive in the city of Fez and begin to walk around, your senses are torn amongst beautiful sights, intricate sounds and colorful smells. Staying a few days in Fez el Bali will make you recognize that it's hard to avoid the paradoxes of the place. Fez el Bali is a place with a constant source of interest. You can either stay in the modern hotels of Ville Nouvelle with a reliable water supply or in the basic hotels of Medina in Fes el Bali and Fes el Djedid. There is frequently a shortage of hotel space, so be sure to book well in advance. A small number of the better quality hotels have swimming pools and also offer the advantages of nearby restaurants and pubs.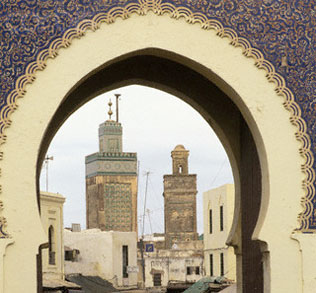 The streets of Fez are filled with mosques, medersas, fondouks and monuments. A visit to the Merenid tombs on the rim of the valley will give you a spectacular overview of the city. The Boujeloud Gardens are a real haven with an open air cafe and many picnic spots. Evening roost at Fez makes a spectacular sight for bird watching. The skies appear to swarm with thousands of alpine swifts in search of insects for their young in nests perched in the city walls.
Ville Nouvelle is the center for most of the cities restaurants, bars, cafes, bookshops and other facilities. Fes el Bali and Fes el Djedid have no bars and a few restaurants that are very basic.  These basic restaurants are open only for lunch and mainly cater to tourists. Cafes and bars are scattered throughout the streets of Ville Nouvelle and are very popular with locals and tourists. The bars in Fez range from non-alcoholic to serious Morocco drinking style, with pool tables and a crowd of regulars. The hotel bars are safe and suited for the tourist who just wants sit and have a quiet drink. Small cafes are plentiful throughout the Medina. The basic layout of Fez el Bali is very simple with a Moroccan Medina that separates the two cities, Fez el Bali (old Fez) and Fez el Djedid (new Fez), and a French-built Ville Nouvelle. Fez el Djedid is a beautiful place with a vast enclosure of royal palaces and fabulous gardens. Fez el Bali, however, is an incredibly intricate city with many confusing lanes, souks and blind alleys. You may want to get yourself a guide just to show you the main sights and layouts. It can be difficult to find your way around Fez el Bali as all the street signs are in Arabic only. Transportation in Fez consists of trains, buses, grand taxis, cars or air transport.