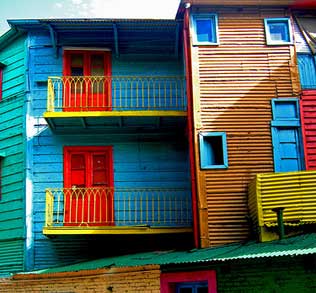 Buenos Aires is a dynamic city of contrasts with wide avenues, extensive green spaces, hundreds of sculptures and a large number of churches integrated among modern skyscrapers, office buildings, houses and apartment buildings. Buenos Aires is elegant, noisy, full of cultural activities and currently one of the hottest travel spots on the map. One of our favorite parts of Buenos Aires is La Boca, near the Riachuelo.  The famous "Caminito", the most photographed street in La Boca and possibly Buenos Aires, is where you'll find houses made of metal sheets painted in an array of bright colors with many windows and balconies. Along the street, arts and crafts vendors, tango dancers and painters show their best to the passersby. When visiting La Boca, make sure you stop by Boca Juniors Soccer Stadium. In Argentina, football is not just a sport, it is an important part of children and adults' lives which can be seen displayed on clothing, in tango and on the streets. The national league is comprised of 20 teams of the first division that participate in national and international tournaments. Most games are played on Sundays.
Part of the Palermo neighborhood, between Juan B. Justo, Niceto Vega, Dorrego and Paraguay Streets, has taken the name "Hollywood" because of the many TV/film studios and production companies. Also a favorite place for many artists, the surroundings of "La Placita," offer numerous pubs, restaurants, discotheques, art galleries, design stores and bars that hold alternative theater shows. Considered a "National Historical Place," Plaza Dorrego is home to the San Telmo Antiques Fair held every Sunday from 10a to 5p. To call this an antiques fair really doesn't speak to what this event is. As you walk along the cobblestone streets among the antique sales, Tango dancers perform and provide entertainment for the crowd and, once night falls, it evolves into a milonga (a street side dance party).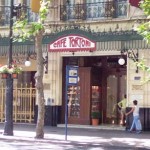 In Buenos Aires, there are many different types of pubs and cafes. Traditional, alternative, outstanding, entertainment, sports, and literary bars. Outstanding sites are bars, billiards rooms and confiterías related to meaningful cultural events or activities and also those that have a particular value due to their age, architectural design or local relevance. The pubs in Buenos Aires are the perfect place to read, talk with friends, browse the net, listen to live music and even watch TV. The Cafe Tortoni, Avenida de Mayo 829, is housed in an Art Nouveau building built in 1858 and is one of the oldest literary cafes in the city.  The busy nightlife of Buenos Aires offers the visitor several choices of entertainment, recreation and culture. The city is full of cinemas, theaters, auditoriums, restaurants and "pizzerias" which are open till the wee hours. There is a great variety of alternatives to eat out, go dancing or enjoy a show or cultural activity. Those who are fond of Tango will find unique places to dance, listen to or learn it.
Food/Drink: Drink the mate. In order to keep your budget down, you can buy food at supermarkets. Coto supermarkets have a food court where you can eat farily cheaply. In the center of the city, there are two locations: Viamonte 1571 and Lima 1553. There are a number of local dishes called "minutas" that take a short time to prepare that are often served in restaurants and bars. A few good choices are the empanadas (dough filled with ground meat, olives, boiled egg and spices), "milanesa" (breaded meat) with fried potatoes,  and the pizza. The most popular meal is "el asado" or "parrillada", a mixed grill of steak and other meats which no visiting carnivore should miss. A traditional parrillada includes meat, sausages, chinchulines (small intestines), riñones (kidneys) and morcilla (blood sausage), but don't let that put you off unless you are a vegetarian. It is prepared over charcoal or a wood fire and accompanied by chimichurri, a tasty marinade, and often served with different types of salads and/or fried potatoes.
Accommodation in Buenos Aires: While there is a large concentration of hotels in the city center, you may want to consider staying in neighborhoods like Palermo, Belgrano or Recoleta. Another option is to take advantage of the very inexpensive and friendly hostels in Buenes Aires. This may be the best option for those on a limited budget or for those who are traveling alone. Check out Hostelworld.com for a list of hostels in Buenos Aires.
Transportation in Buenos Aires: The Manuel Tienda León Bus Company provides transportation to the center of the city from the airport and has reservation booths in the arrivals area. The minibuses depart every hour, are inexpensive, and make several stops along the way. The subway system is very reliable and it covers the center and the outskirts of the city. There are five lines identified with letters (A, B, C, D and E) and we think it's the fastest way to move around the city. The subway system runs Monday to Friday from 6am to 10pm and Saturdays, Sundays and Holidays from 6am to 8pm.