We are thrilled to welcome Jesper Tejsen Lykke as a guest blogger to the Brilliant Tips travel blog. While you may not find Jesper on the list of famous Danes, he is far and away our favorite native of Denmark. A travel industry veteran of 25 years, Jesper is currently Director of National Accounts for Travel Guard. So if you need information about travel insurance, be sure to check out Travel Guard. After knowing and working with Jesper for many years, we can vouch that these are the very best insider travel tips when it comes to Copenhagen.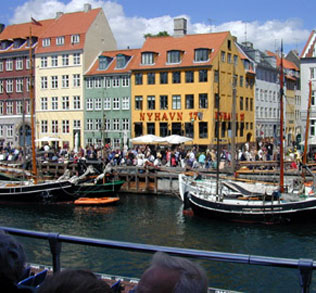 1. Even though it may not appeal to an independent traveler, the harbor cruise is a great introduction to the beauty of the old city. Most find it useful for getting an idea of places of interest that you can later go back to for closer looks. Not only are the views great and the information interesting, they also allow you (encourage you really) to bring your beer on board.
2. Don't spend time on a visit to Christiania. Read about this interesting social experiment that has gone on for more than 30 years, but don't waste time on a visit. It is ugly, unimpressive, quite dirty, and, being a center for the drug trade, it may even be a somewhat unsafe place to hang out.
3. The center of Copenhagen is full of pedestrian street areas, small alleys, and attractive little squares. Summer visitors will see Copenhagen as one large outdoor restaurant. Danes meet at Gråbrødre Torv and Danes as well as visitors congregate at Nyhavn to see, be seen, eat, drink, and be merry.
4. An evening in Tivoli – one of the world's oldest amusement parks – located in the very center of the city is still worthwhile. The park may not have the incredible rides of Disney or Six Flags, but the park itself is amazing. Whereas locals will never dine at a restaurant in Tivoli, a casual meal of smørrebrød (open-faced sandwiches Danish style), Danish beer (Tuborg or Carlsberg), and a chaser of Aquavit is a must-do.
5. Don't bother with a rent-a-car, which is at least twice as expensive as in the US. Copenhagen has an excellent public transportation system combining clean buses that run on time with a somewhat limited (but very safe) subway / light rail system with a station at the airport. Another unique feature of Copenhagen are the world-famous Free City Bikes used by visitors and Copenhageners alike. The city of Copenhagen keeps expanding its net of bicycle lanes and routes and you are likely to get around town faster by bicycle than by any other means of transportation. The Free City Bikes are on the streets from mid April to November.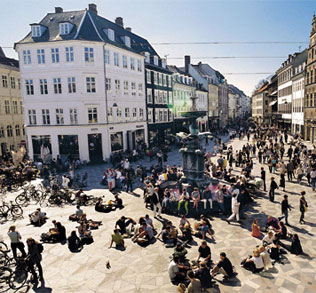 6. Copenhagen is seen best by foot. When walking in the old part of town, make time to peek into the many courtyards and enjoy the old, well-preserved buildings there. Strøget is the longest pedestrian street in the world and the offer of goods and services will accommodate shoppers of any taste and budget. Strøget runs through the very center of the old part of Copenhagen and even locals are known to enjoy a few casual hours of window-shopping. Walk from Rådhuspladsen (City Hall) to Kongens Nytorv (Kings New Square) and make sure to explore the side streets and courtyards.
7. Take advantage of hop-on-hop-off sightseeing buses and do not pass up an opportunity to make quick visits at Christiansborg Slot, the old royal castle which now houses the Danish Parliament and Rosenborg Slot which houses the crown jewels.  Make use of the inexpensive harbor buses.
8. Amalienborg (the Royal Castle) is worth nothing more than a walk across the square when walking between the center of town and the Little Mermaid, which certainly is a disappointment to most but – nevertheless and strangely enough – a must-see for anybody visiting Copenhagen for the first time.
9. Many State-run museums like The National Museum, The Museum of Danish Resistance, The Open Air Museum, and The National Gallery offer free entry all week. Other worthwhile places with free admission are the The Ny Carlsberg Glyptotek (Sundays) and The Copenhagen City Museum (Fridays).
10. Accommodation in Copenhagen is generally known to be rather expensive, but it doesn't have to be! Check out some great flashpacking hostels of a very high quality.  Copenhagen Downtown opened in 2008, right in the heart of Copenhagen with an emphasis on value, culture, art, and atmosphere rather than room service and expensive rooms. Danhostel Copenhagen City is another inexpensive option. Overlooking the city and harbor, it is Europe's biggest youth hostel with more than 1,000 beds. Copenhagen Airport Hostel is called the most homey youth hostel you will ever visit. If you are looking for cheap accommodation, this is an excellent option, but the location away from the city center and near the airport may make the low price less attractive to some.