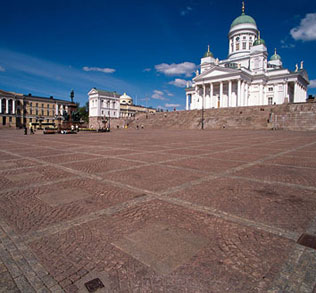 Unique among Northern European cities, Helsinki is the second-most northern capital city in the world and is full of contrasts and activities. Helsinki's identity has been formed by cultural influences from both the East and West and is an ideal city for tourists, as most attractions are situated within easy walking distance from the city center. Helsinki's excellent public transportation, which has been ranked the best in Europe, will save the day when your feet get tired or when you want to explore the areas outside the center.
The Senate Square and its surroundings form a unique and cohesive example of Neoclassical architecture. The square is dominated by four buildings designed by Carl Ludvig Engel between 1822 and 1852: Helsinki Cathedral, the Government Palace, the main building of the University of Helsinki and the National Library of Finland. Helsinki Cathedral, arguably Finland's most famous and photographed building, celebrated its 150th anniversary in 2002. The oldest stone building in Helsinki is the Sederholm House located on the southeast corner of the square.  The main building of the City Museum can be found on the Sofiankatu museum street.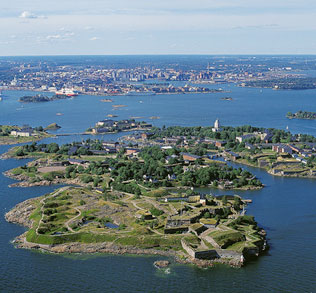 Suomenlinna is one of the world's largest historical maritime fortresses. Built on six islands in the 1700s, the garrison town is among the most popular sights in Finland and is home to approximately one thousand residents. Suomenlinna has been a UNESCO World Heritage Site since 1991. Suomenlinna offers a unique experience for visitors of all ages with its museums, idyllic cafes and cozy restaurants. The municipal ferry to Suomenlinna departs from the Market Square throughout the year. In summertime, you can also take a JT-Line water-bus from the Market Square. The journey takes about fifteen minutes.
Located in the middle of the Esplanadi Boulevard, Kappeli is one of the most well known restaurants in Helsinki and has been operating since 1867. The menu is perfect for visitors who want to try the local cuisine. Nights in Helsinki are filled with music, people and electricity. Bars, clubs and nightclubs are packed with fun loving people both on weekends and during the week. Ahjo is a combined bar, lounge and night club located in the hotel Klaus K. The eclectic atmosphere and crowd create a very mystical quality to the bar. The contrasting light and dark areas reflect the many magical dualities of the land with its midnight sun and long dark winters. Even though the Cafe Engel is normally packed, the service is very quick and the wait for a table is usually only a few minutes. This idyllic cafe in the Senate Square, with a view of the Cathedral, is a great spot for breakfast.