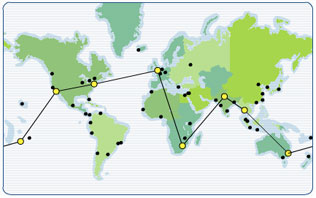 Traveling around the world could be the ultimate travel experience. However, before you take off, you're going to need to do a bit of planning. Beginning the task of planning your trip of a lifetime can be overwhelming. There are so many things to think about and so many options available. You are talking about traveling around the world, about taking a trip that will undoubtedly change who you are as a person, about having an adventure from which you'll come back…different. So where do you start?
Generally, you will get the best value if you book your flights about two to four months prior to your desired departure date. It's important to remember that just because a fare exists doesn't mean there's a seat available on the flight you want to go on. Therefore, the number one way to save money is to be flexible. Be flexible with your dates, the cities you visit and the airlines you fly. Another consideration when planning your trip is to choose to fly into major city hubs so you can eliminate unnecessary stops which will take time away from the places you want to see. High, low and shoulder seasons vary by destination and route and there is no fixed or standard price per stop. Some destinations may add more to the price than others because they add more to the length of your route or because they are served by fewer or more expensive airlines or simply because airlines price them higher. Yet another consideration when planning is how long you should stay in any one place. It's fair to say that the longer you stay in any one place, the more you will gain. You'll have more time to observe and explore the local customs, unique cultures and various cuisines. You'll also have more time to discover the many hidden and tucked-away surprises that each location holds.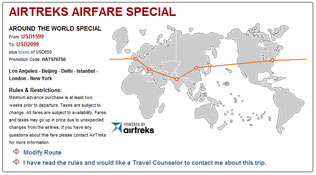 Airtreks is a team of specialists in around the world tickets and multi-stop airfares. I have worked with Airtreks for many years and, in my opinion, they are "the" company to go to for around the world air tickets. I have found that the best starting point is the specials page on the Airtreks website. This will give you a really good idea of which routes work and which routes are the cheapest or the most popular. For example, their specials generally include very basic itineraries such as Los Angeles – Shanghai – London – Los Angeles for as low as 1299 USD as well as more complex itineraries such as New York – Hong Kong – Bangkok – Singapore – Saigon / Ho Chi Minh – Sydney – Johannesburg – Frankfurt – Paris – London – Athens – New York for 2899 USD. You'll notice that Airtreks lists range pricing. This is due to the seasonality of travel.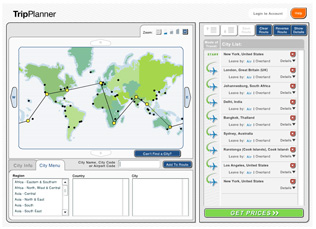 If after reviewing the sample itineraries and prices listed on the Airtreks specials page you haven't found a route that works for you, have a go with their Trip Planner . Airtreks has developed a fantastic Trip Planner to plan and price your own custom, international, multi-city trip. Start and end your trip anywhere in the world. To plan your route, simply enter your departure city in the box provided and click "add to route." You can add as many cities as you'd like. Once you have entered your desired route into the Trip Planner , click "get prices." The Airtreks Trip Planner will respond with a price range estimate that includes taxes and possibly some additional city suggestions that may reduce the cost. It will also provide an additional routing option, with its price, that offers maximum value for your money. From here, click on your desired route and provide your additional trip details such as dates, number of travelers and eligibility for any discounts such as student, youth, teacher, etc.
If you have any questions, see Airtreks' FAQ page or send a request to the Airfare Guru.