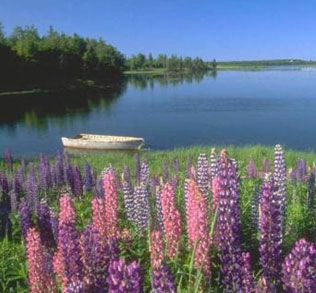 A destination to consider for summer vacation is Canada's smallest province, Prince Edward Island. One of the Maritimes, it is located off the northern shore of Nova Scotia. The island is easily accessible via the nine mile Confederation Bridge, the airport in Charlottetown or by ferry. The most striking features of the island are the rich red dirt, sandy beaches, and quaint villages where window boxes and flower gardens abound. The climate is surprisingly mild due to the proximity of the Gulf Stream.
The island is small enough to accommodate day trips to the east end or north shore beaches. Fishing charters leave from Rustico. Golf courses hug the shore or wind through cow pastures. The College of Piping and Celtic Performing Arts is located in Summerside. Try to time your visit to catch one of the shows put on by the students. If gardening is your passion, you must visit the family operated Veseys Seed Company. Their summer show gardens are striking and you can purchase excellent vegetable and flower seeds.
Hotels in Charlottetown, the capital city, are a good option. The Great George is Charlottetown's award-winning historic boutique hotel, located in the heart of downtown. Charlottetown has daily walking historical tours. Most evenings, the musical, Anne of Green Gables, is performed at the modern Confederation Centre on the corner of Queen Street and Richmond Street. Be sure to check the newspaper if you are interested in finding local musicians performing Acadian or Irish inspired tunes. The wares of many talented artisans can be bought at the shops along Peak's Quay on the waterfront.
As expected, most of the restaurants feature seafood. Don't miss the Prince Edward Island raised mussels. The Olde Dublin Pub prepares a chowder that is both delicious and authentic. For a magnificent lobster dinner, Peak's Quay Restaurant and Bar is the place to visit.
.
A very special thank you to my Mom for her guest blog post. -Rich