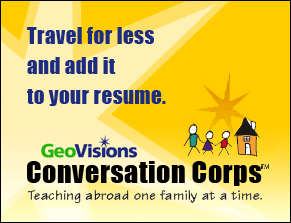 With travel experience and skills acquired abroad becoming increasingly valued by schools, employers and governments, why not spend your summer on a trip that you can add to your resume? Position: Private Language Tutor. References: Global. Geovisions' Conversation Corps is a unique way to live in a foreign country for a fraction of the normal cost. Offering the opportunity for participants to travel abroad while teaching English, Conversation Corps has reintroduced the concept of the homestay and in doing so is encouraging more cultural interaction between tourists and the local culture. Basically, in exchange for room and board, travelers teach English 15 hours a week leaving plenty of time to explore the country.
To participate in the Conversation Corps, you need to have earned a high school (secondary school) diploma or certificate, be in good health and abide by the family's rules and habits. Participants must devote up to 15 hours per week, Monday – Friday, for lessons and conversation. Lesson plans and family activities are provided by GeoVisions as part of the pre-departure information. Travelers do not need a teaching degree to participate in the program. Programs range in duration from one to three months and the destinations include: Jordan, Germany, France, Spain, Thailand, Italy, Peru, Brazil, Mexico, Russia and Turkey. Room and board includes accommodation and most include meals. GeoVisions also includes airport pick-up, project training, in-country support, extensive medical and accident insurance, extensive pre-departure information and on-site project orientation.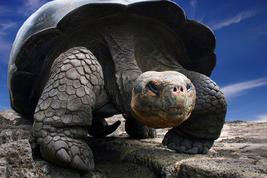 For example, the teach English on the Galapagos Islands program is a great way for travelers to experience, in-depth, life on the Galapagos Islands and the Ecuadorian culture. Find out first-hand how an Ecuadorian family lives day-to-day in the Galapagos. Participants will live either on the islands of Isabela or San Cristobal. The host families are not only excited to learn English, but also love to share the characteristics of their country, culture and cuisine. Sometimes there are opportunities to take part in family activities and to meet extended family. Plus, they can show you landmarks and the hidden gems of the Galapagos Islands. Conversation Corps volunteers receive instruction on how to teach English, with specific activities for teaching English in a home to a family. Airfare from Quito to the Galapagos is also included in the program fee along with local boat transfers.
Duties and Responsibilities include:
• Teaching the host family English up to 15 hours a week, Monday to Friday
• Coming up with creative, fun and informative lesson plans
• Helping children with their English homework
• Playing games in English with the children
• Creating and teaching educational games and activities
For a complete list of destinations currently offered by the Conversation Corps, click here. To request more information from GeoVisions about how you can participate in the Conversation Corps, click here.
To fill out an application, click here.