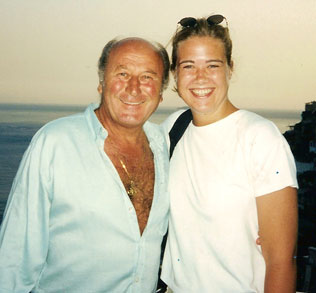 When we ask the question, "What's your favorite part of traveling?", we're pleased to often hear, "the people I met along the way," as the answer. The people we encounter along the way become part of our unique travel experience each time. The best way to meet people while traveling is to simply keep an open mind and to respect and adapt to cultural variances. Whether it's on a plane, train, bus or in a hostel, hotel, villa or on the street or in a museum, you never know who will have an impact on your travels.
Positano. The name itself conjures up images of romanticism and beauty with its flowerful pathways winding through colorful villas perched atop the hillside overlooking the bright blue sea. Though I do recall the beauty of Positano, the jewel of the Amalfi Coast, Angelo is who really stands out in my mind when I think back on this trip. Angelo was the grandfatherly man with the great smile and endless knowledge of his home and its people. Since I was with a friend of mine visiting as backpackers, I didn't have lots to spend in this somewhat pricey Italian location. Angelo kindly offered to give Hilary and me a tour of the place…on his scooter. That's right…all three of us….on his tiny scooter. As it is a very hilly place and scooters don't have lots of power, you can imagine the speed at which we traveled. You would think the other drivers would have been annoyed at our snail's pace, but no. Other scooters and cars flew past us waving! This was Angelo and I imagine this was not an uncommon sight for the locals! He made our trip. He introduced us to everyone on the street and in the stores and to those popping their heads out of their villa windows. He even took us on a tour of Le Sirenuse, a chic hotel with fantastic views not typically frequented by backpackers! Thanks for the memories Angelo!
Who have you met along the way that has become a character in your personal travel story?