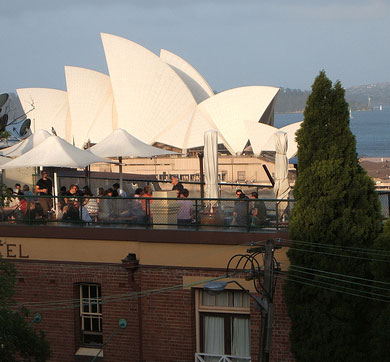 Located just minutes from Circular Quay and situated in an old building at the top of the Rocks, the Glenmore Hotel has been a Sydney icon since 1921. Having survived depressions, plagues and wars, it remains a favorite among both tourists and locals alike with its colonial English charm and character. A heritage listed pub, the Glenmore is predominantly known for its absolutely spectacular rooftop patio which boasts amazing 180 degree views of Sydney Harbor and CBD.
At the Glenmore Hotel, you can indulge in great food and drink on the rooftop while overlooking one of the world's most beautiful harbors. They have the usual pub food and I ordered a typical Aussie burger complete with a fried egg, pineapple ring and beetroot slice.  It might not sound like the best combo, but it was the best burger I have ever had in my life. The fish and chips are delicious too and they have good vegetarian nachos which can be hard to find in Sydney. In addition to having good food and fantastic views, the Glenmore has very reasonable prices. Popular with the after work crowd, the Glemore can get very busy around 6pm. If you find the rooftop is full after you've climbed the stairs, you can wait around for a seat and have a drink from the bar while you take the opportunity to savor the view.
This hidden gem, located at 96 Cumberland St, The Rocks 2000 (02 9247 4794), is a great place to enjoy a drink under the sun with a nice breeze and a stunning view.
Find cheap flights to Sydney through BrilliantTrips. Tip: buy tickets to Sydney in advance to lock in lowest prices, and plan to allow for flexible schedules to get the best travel deals available.
Our Sydney hotels page presents hotels ranked by popularity – read traveler reviews and search multiple sites for the best deals on the best hotels in Sydney.
Looking for things to do in Sydney? Check out our top picks and pages of things to do in Sydney!