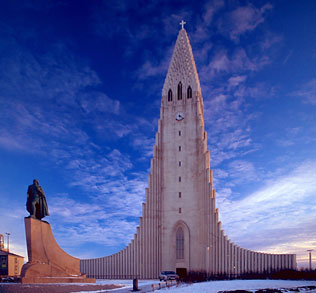 Reykjavik is a city with many great qualities and a unique, short getaway for travelers from Europe and the eastern United States who have a large appetite for culture. Travelers who love arts and culture will find a trip to Reykjavik very enjoyable. When I think of travel to Reykjavik, I think of a buzzing cultural scene with a uninterrupted flow of cutting-edge musical happenings, theatrical performances and cultural events that keep locals and visitors entertained all year round.
This spring, some of the cultural highlights in Reykjavik will include a few large springtime festivals. The Food and Fun Festival (18 -22 March) involves world-acclaimed chefs who collaborate with Reykjavik's best restaurants. The highlight of the event is the chef competition, where the chefs compete by making three courses using only Icelandic ingredients. DesignMarch (26 – 29 March) is being held for the first time in Reykjavik. You can expect the city to be vibrant with design everywhere from cups in cafes, plates at restaurants, chocolate in shops to staff in costume and shows in stores and shop windows. Iceland's premier cultural festival, the Reykjavik Art Festival (15-30 May), brings together the best in local and international theater, dance, music and visual art. Along with its focus on Icelandic culture, past and present, the festival hosts many outstanding international artists and performers. This year's leading act will be Deborah Voigt, arguably the leading dramatic soprano singing today.
Foodies will find lots to keep them in good spirits when wining and dining in Reykjavik. Like many things in Iceland, Icelandic cuisine benefits from the open-mindedness of the Icelandic people and the willingness of the culture to adapt foreign tastes to its own. The cuisine can be described as an imaginative use of pure Icelandic ingredients such as fresh fish and seafood, organic lamb and wild game. Well known for its vibrant nightlife, Reykjavik has many trendy bars and clubs open until all hours of the morning. Whether you are interested in listening to live music or dancing the night away, you are sure to find something that will keep you entertained. Keep in mind that the partying starts late as bars and clubs don't generally become busy until after midnight.
Many come to Iceland to view the spectacular Northern Lights. The Northern Lights can only be seen in the skies in clear cold weather when it's totally dark. In Iceland, the nights are dark only during winter, so the Northern Lights can only be seen from September to April. In order to enjoy the sight, it is necessary to choose an observation spot far away from strong city lights. One of our friends at NEXGEN Travel Distribution, who is from Iceland, says he goes to Þingvellir National Park, which is about a 1-1.5 hour drive out of Reykjavik, to watch the Northern Lights.