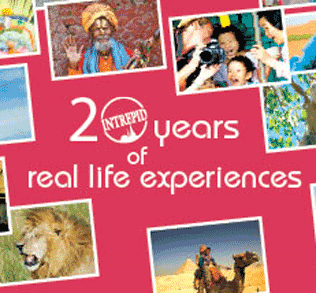 This year, Intrepid Travel is celebrating 20 years of providing amazing travel adventures and real life travel experiences. Starting out as two best friends with a passion for travel, Intrepid has grown into one of the world's leading adventure travel companies. To celebrate, starting today, Intrepid Travel is offering a great travel deal. For the next 20 days, travelers will receive a 20% discount on 20 different amazing travel adventures.
Here are the 20 amazing adventure trips offered at a 20% discount:
The Road to Budapest Promenade along the Ringstrasse in Vienna; Embark on a fountain trail in Bratislava, Experience the buzz of a jazz bar in Prague; Discover weird rock formations in Teplice; Reflect upon the tragedy of WWII at Auschwitz; Hike in the majestic Tatra Mountains; Cross the Chain Bridge linking Buda to Pest.
Moorish Spain Soak up art and culture in Madrid; Experience the heat of traditional flamenco in Seville; Chill out on the Costa de la Luz; Take a day trip to north Africa; Explore the Alhambra; Admire Gaudi's madly gorgeous architecture in Barcelona; Kick back with sangria and tapas.
The Heart of Europe Experience the heady atmosphere of Rome; Cycle in the Tuscan countryside; Walk the fabled paths of the Cinque Terre; Discover high fashion in Milan; Take in the crisp air of the Swiss Alps; Savour Dijon's gastronomic delights; Explore champagne caves in Reims; Be swept away by the romance of Paris.
Discover Egypt Wander among the Pyramids and see the Sphinx; Visit a Nubian family for a local meal; Relax on a felucca down the Nile; Travel to the Valley of the Kings by donkey; Marvel at Karnak Temple; Climb mystical Mt Sinai; Stay in beach huts on the Red Sea coast; Experience Islamic Cairo.
Colors of Morocco Experience medieval Morocco in Fes; Discover the ruins of one sultan's Versailles dream in Meknes; Have a camping adventure on the sandy dunes of the Sahara; Have lunch with locals in a kasbah; Trek through the impressive Todra Gorge; Relax with mint tea in remote Imlil; Kick back in the stunning coastal town of Essaouira; Indulge your senses in the souqs of Marrakech.
Masai Heartlands Learn the ways of the Masai; Descend to the lush floor of the Ngorongoro Crater; Watch a sunset over the Serengeti's swaying grasses; Spot the Big Five in the Masai Mara;Watch pink flamingos adorning Lake Nakuru; Explore a local market in Musoma; Experience complete stillness by secluded lakes and valleys.
Cape Town to Vic Falls Head out tracking and gathering with the San Bushmen; Camp amid the harsh beauty of the Spitzkoppe; Climb a giant sand dune in Sossusvlei; Explore the banks of the Orange River; Cruise the Okavango Delta in a dugout canoe; View the mighty Victoria Falls; Gaze into the depths of Fish River Canyon; Watch seals frolic on the shores of Cape Cross.
Kilimanjaro Marangu Route Conquer Africa's highest peak; Spot monkeys hiding in tropical rainforest; Hike through surreal hanging moss forests and moonscapes; Tackle a climactic last stretch by lamplight; Gaze at the vast plains and ice fields of Africa; Experience an incredible African sunrise from Mt Kilimajaro.
Cairns to Sydney Spot koalas snoozing high in Magnetic Island treetops; Wander through lush Australian rainforest; Camp under a starry Outback sky; Scale soaring sand dunes on Fraser Island; Bowl 'em over with a game of beach cricket; Chill out in mellow Byron Bay; Graze on delicious Hunter Valley produce.
Land of the Long White Cloud Discover Auckland's cosmopolitan attractions; Experience a Maori welcome and traditional meal; Sample local wine in Hawkes Bay; Encounter sea lions in Kaikoura; Get adventurous in Queenstown; Walk across the Franz Josef Glacier; Stay in a country pub; Kayak through spectacular Milford Sound; Explore the scenic Southern Alps.
Peru Encompassed Sip a pisco sour in Pisco; Scale Huacachina's sand dunes; Be amazed by the Nazca Lines; Discover desert mummies at Chauchilla Cemetery; Nibble guinea pig in Arequipa; Spot condors in Colca Canyon; Experience traditional Lake Titicaca life at a homestay; Sample Cuzco's famous coca tea; Trek the Inca Trail to Machu Picchu; Explore the steamy Amazon Jungle.
Majestic Peru Explore the wild Ballestas Islands; Survey the mysterious Nazca Lines; Meet the mummies of Chauchilla Cemetery; Taste traditional coca tea in Cuzco; Marvel at the soaring pre-Inca funerary towers at Sillustani; Peruse the remarkable ruins at Ollantaytambo; Visit locals on Lake Titicaca's floating islands; Experience sublime wonder at incredible Machu Picchu.
Maya Encounter Amble over Tulum's jungle ruins; Experience traditional life in San Ignacio; Chill out seaside in Playa del Carmen; Haggle in the markets of Chichicastenango; Enjoy colonial architecture in Antigua.
Classic Rajasthan Experience a taste of rural Rajasthan; Admire the Taj Mahal; Scout the Brahmin-blue lanes of Bundi; Discover the many faces of Delhi; Watch local craftspeople create their wares; Catch a Bollywood blockbuster; Spot wildlife in Ranthambhore National Park.
Everest Base Camp Explore exciting Kathmandu; Visit the museum of Namche Bazaar; Experience the exhilaration of reaching Everest Base Camp; Discover remote monasteries; Admire spectacular Himalayan vistas; Stay in mountain teahouses; Learn about Sherpa culture; Take a flight over mountain peaks.
Northern Thailand Boat around Bangkok; Peruse beautiful Wat Pho; Have your fortune read in Ayuthaya; See the infamous Bridge over the River Kwai; Ride an elephant in Chiang Mai; Trek through remote hilltribe villages; Visit the Golden Triangle.
The Reunification Express Explore the evocative Old Quarter of Hanoi; Sail Halong Bay; Ride the famed Reunification Express; Visit imperial Hue; Embark on a shopping spree in Hoi An; Swim in the South China Sea; Explore Saigon by cyclo; Take a row-boat along the Mekong.
Great Indochina Loop Ride a longtail down Bangkok's canals; Explore the ancient temples of Chiang Mai; Cruise down the Mekong River; Swim under a waterfall in Luang Prabang; Unwind in Vientiane; Enjoy Hanoi's French fancies; Be enchanted by beautiful Halong Bay; Discover imperial elegance in Hue; Channel the spirits of old traders in Hoi An; Tantalize taste buds in Ho Chi Minh City; Ponder Phnom Penh's volatile past; See the incredible temples of Angkor.
Iconic China Experience the vibrant contrasts of Hong Kong; See ancient stone warriors in Xi'an; Stand in the center of Tiananmen Square; Feast on delicious local specialties in Beijing; Visit China's most magnificent sights; See the countryside on two wheels; Visit a local farm and make new friends; Admire the spectacular architecture of Shanghai.
Road to Angkor Tap into the action in Bangkok; Marvel at the beauty of Angkor; Remember the past in Phnom Penh; Travel down the Mekong to Chau Doc in Vietnam; Zip down the river aboard a speedboat; Soak up the frenetic vibe of Ho Chi Minh City.
Customers must book between now and April 20, 2009 and travel must be complete by December 31, 2009. Local Payments are not included in the offer and all trips are subject to availability and confirmation by Intrepid at time of booking. This offer must be taken up at time of booking and customers need to quote promotion code 2728. This promotion applies to new bookings only and cannot be applied to existing bookings or used in conjunction with any other discounts or special offers.