Berlin is a very important and unique city. With bullet holes from World War II that still pepper the faces of everyday buildings and the remains of the Berlin Wall, history is everywhere in Berlin. There is so much to see and do in Germany's capital city. Here are 3 of our favorite travel activities in Berlin:
Underground Berlin: Stranded behind the iron curtain for nearly 40 years, West Berlin developed its own unique identity and became a magnet for non-conformists in search of an alternative lifestyle. Sub-cultures, squats, and graffiti art became a distinct part of Berlin. When the Berlin Wall fell, the scene didn't disappear; it just moved east. This three and a half hour walking tour explores the gritty, grungy underground of the city that Berliners love. See the clash between corporate expansion and counter culture that makes Berlin the underground envy of other European capitals. Witness Berlin's coolest districts and see its street art and graffiti, the back streets and abandoned ruins, urban conflict zones, the East Side Gallery and more. The Berlin Alternative City Tour runs every day at 2pm and students can save money by booking the student rate.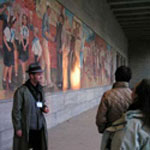 Secrets of Red Berlin: Explore Berlin's former Soviet Sector. Learn about life behind the Iron Curtain and those who fought in the shadows of Berlin. The people, places, and secrets that kept two worlds on the brink of World War III and the wall that separated them. See how the Stasi, the largest spy network the world has ever seen, kept an entire population under observation. Trace the CIA and KGB spy stories at the U.S., North Korean, and massive Soviet embassies. The three and a half hour walking tour runs everyday at varied times and students can save money by booking the student rate.
New Berlin Pub Crawl: The eclectic nightlife in Berlin ranges from underground bars to funky cocktail lounges and from great live music clubs to thumping clubs. What makes this Pub Crawl one of the best nights out in Berlin? You will get into clubs that normally visitors, and those who don't speak German, would never get into and you'll never have to wait in the line. Svedka Vodka sponsors the tour that includes plenty of free shots throughout the night, entrance into A-list clubs, and drink specials in the bars along the way. Now in its fifth year running, one journalist called it "the most wild night of (their) life." The tour runs seven nights a week and departs at 9pm.