Our good friends at Re:Vision, the full-service graphic design studio based in Boston that we owe the world to for creating all of our online stuff, recently took a trip down to Cabo San Lucas. After looking at the many travel activities available in Cabo, they chose to go on an off-road dune buggy adventure. Here's their guest blog post: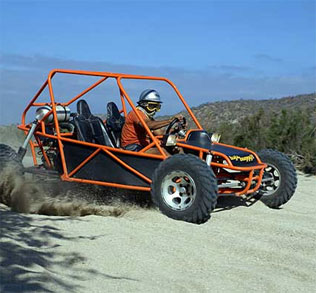 The ride to the base of operations was almost as thrilling as the dune buggies themselves. We were picked up by a van, who swung by 3 other Cabo San Lucas luxury hotels picking up other suckers, I mean thrill seekers. We drove down a long winding road through the desert which was peppered by these teeny, tiny houses by the shoulder of the road. Upon further inspection, I saw these were actually little shrines marking the spot in which loved ones of the local people had lost their lives in traffic accidents. These shrines were built nearly every 100 feet. As we neared the base camp, we saw a demolished car up on stilts. The other tourists in the van thought it was a sculpture, but it was actually a car involved in a fatal crash that local authorities put on display to warn the public! While on the road to the camp, we periodically found ourselves behind a line of cars stuck behind a fuel truck going 20 mph, and this explained all the road fatalities.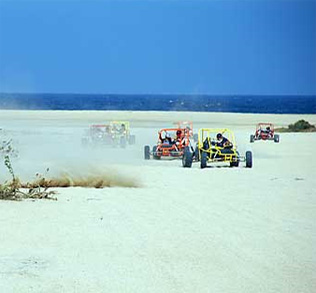 We arrived with 5 other couples and were all issued bandannas, goggles and helmets. We were assigned a dune buggy and then headed off in a long line through dusty trails in the desert. We drove to a spectacular beach where my machine stalled. Waves crashed closer and closer to me as I struggled to get the beat up buggy started. One of the three friendly guides jumped out of his buggy and had me swap rides with him. His ride seemed to drive better, but was encumbered with tools, a cooler and a spare tire on a rack on the top of it. I was 3rd in line as we weaved our way back through the desert toward some meandering cows. The guide drove a little too close to the bovine who lumbered into the path of the 2nd buggy nearly colliding with it. A steep winding trail brought us up a mountain with a huge cliff on one side. I had almost reached the top when my machine stalled. Unfortunately, I had the rest of the tour group stuck behind me on a steep incline. There was no parking brake, so when I unbuckled my harness and jumped out, my buggy rolled backward into the couple behind me who in turn rolled into the people behind them. I was starting to panic at this point. Once my back told me the buggy was too heavy to move by hand, other men on the tour tried to help me. Eventually, the guide came back and got the buggy running. In broken English, he told me that when approaching the next hill, I should really gun it to gain momentum. This was not reassuring. Fortunately, I was issued my 3rd dune buggy when we stopped at a crazy little village in the mountains.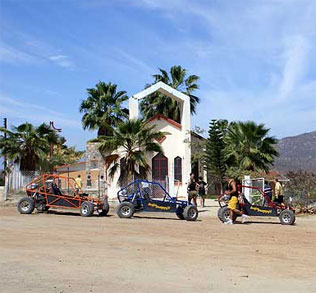 There were shanties surrounding a pristine little church and elementary school where we stopped for some reason. The dune buggy company's photographer who traveled with us, pointed to a shack and told us to look inside. Inside was the smallest store I had ever seen. A 5×7 foot room packed with canned goods, an ice cream cooler in the center, drink displays, small trinkets and a smiling proprietor greeted us with a friendly wave. Just outside was a chicken tied to a tree with about 2 inches of slack. It couldn't even put both feet on the ground. There were donkeys, goat hides and rubble behind the structure. A washing machine under the sun was chugging away. We made our way to the church, said hello to the children in the tiny school and climbed back into our dune buggies. Our guide asked if anyone would like to go over jumps.  Then, down the mountain road we went, driving as fast as our machines would safely go. My new dune buggy was EXTREMELY fast! Once we descended to the desert valley, I was passing people left and right trying to follow the guides who were launching themselves over random jumps and berms. The dust was so thick at times I was afraid I would crash into the back of the folks in front of me. The guy who sat next to us on the van ride over had broken down, so I picked him up in my speedy vehicle and tried to find a guide. Two came over, jumped out of their buggy, gave it to the guy and started working on his broken ride. I found my wife who had also broken down 5 minutes later. Her steering failed.  It was locked to the right. She jumped in my ride and off we went, going as fast as we could go over jumps and through brush trying to catch up with the rest of the group. We went back to the beach, drove around another 30 minutes, then drove back to the base camp. After turning in our gear, we were directed to walk up a steep stair case where we found a screened in room with a chef, buffet and beverages. The meal was included, but cervezas cost extra. Then back to the Cabo San Lucas hotels.
Overall, it was a good experience, really dusty though, which I gather takes its toll on the machines. I would recommend it, but next time we'll rent ATVs. In terms of taking in the scenery, it seems more exciting to be on a machine than in a machine.