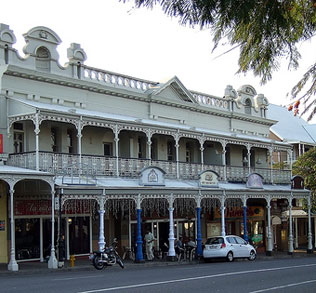 In two weeks, I'll be heading to the INDABA Travel Show in Durban, South Africa. Considered a "must visit" among events of its kind on the global calendar, INDABA brings together a showcase of southern African tourism products and services for the international travel trade. This year, the annual show will focus firmly on the 2010 FIFA World Cup and other global events coming to southern Africa. Exhibitor categories include accommodation, tour operators, game lodges, transport, online travel, media publications and industry associations.
For part of my time in Durban, I'll stay in the area known as Morningside which has a vibrant cultural scene and lots of nightlife. The trendy streets of Morningside have a distinctly cosmopolitan atmosphere. The area has developed a vibey nightlife, particularly around Florida Road, with its restaurants, pubs and bistros. Florida Road in Morningside is considered the center of Durban's hippest entertainment area with the pubs, clubs, restaurants and markets. Morningside also offers some classic examples of large Edwardian and Victorian style homes with tin roofs and wide verandas, including the State President's residence. Also found here are large sprawling parks like Mitchell Park and Jameson Park.
3 cool hostels in the trendy Morningside neighborhood of Durban:
The Tekweni Backpackers Hostel is comprised of various types of accommodation spread out amongst three houses. Travelers can stay right in the middle of the action or in one of the quieter, more remote rooms away from the hustle and bustle.
Surf n Dreams is a new, upmarket hostel in Morningside located around the corner from Florida Road and just a short drive to the beach.
Gibela Backpackers Lodge is conveniently located within walking distance to Florida Road where there are restaurants, cocktail bars, clubs and coffee shops galore.