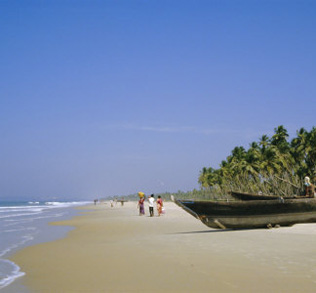 Famous for the sandy beaches that line its coast, Goa is a fascinating and distinctive region in India's southwest. Brimming with Portuguese influences and bursting with fresh food, visitors from around the world travel to Goa for its natural beauty sprawled over a rustic landscape, silver sand beaches and serene fishing villages that give way to colorful markets filled with smiling people.
In Goa, there is a beach for everyone.  Beaches can be categorized as crowded beaches, party beaches, adventure beaches, or isolated beaches. Calangute is a long sandy beach that offers plenty of options for dining, relaxation and diversion. After soaking up the rays and splashing in the water, spend some time exploring beyond the beaches.  Head to Anjuna for the famous weekly flea market, discover the pastel-hued streets of Panaji or soak up the crumbling Gothic ambiance of Old Goa.
Goa is of course much more than just a beach scene attracting visitors with its traditional cultures, unique history and some of the most beautiful natural scenery that India has to offer. Goa's rich cultural heritage, inherited from several kingdoms in different eras, can be observed in its art, music, dance, temples, cuisine, architecture and almost every aspect of life. It creatively combines the eastern and the western cultures and its music reflects a unique blend of the traditional and the contemporary. The Portuguese and Israelis, who once ruled Goa, have clearly influenced all forms art and music and dance. Goa carries traditions that date back thousands of years.
Goan cuisine is heavily influenced by the many cultures that have come in contact with the region. Like many other aspects of Goan culture, the influence of the Hindu, Christian, Muslim and the Portuguese in the traditional food is very strong. You can observe this deep impact on the truly tasty and spicy cuisine of Goa. The exotic spices of the cuisine are grown along the Konkan coast in Goa as well as in the nearby coastal states like Maharashtra and Kerala. Fish, curry, rice, kokam (a red colored sour fruit), aromatic spices, pickles, coconut milk, tamarind and a variety of chutneys are considered the identity of Goan food. Almost all of these are used as ingredients in typical Goan dishes for that extra bit of flavor. In the rural areas, you will find people preparing their food in clay pots with firewood. This traditional method of preparation gives a smoky flavor to the food.
There are many different types of accommodation in Goa and, relatively speaking, most are very inexpensive.