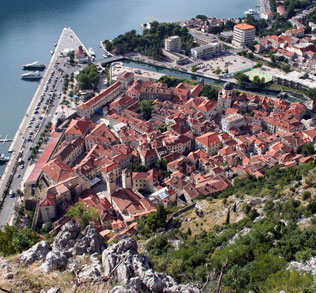 Kotor is one of the oldest and most famous towns in Montenegro. The historical and picturesque town is located along one of Montenegro's most beautiful bays in a very secluded part of the Gulf of Kotor. The ancient city, built strategically on a fortified edge of Kotor Bay, is surrounded by impressive city walls. The Kotor city walls, measuring 4 kilometers in length and a stunning 260 meters high, offer an amazing opportunity to circumnavigate the entire city on foot while taking in its rich history and beauty from the best vantage points. Built as a fortress to ward off invading armies, the city walls now blend beautifully with the city's old stone houses. An old Mediterranean port, Kotor and its medieval architecture and numerous monuments of cultural heritage have made Kotor a UNESCO listed World Natural and Historical Heritage Site.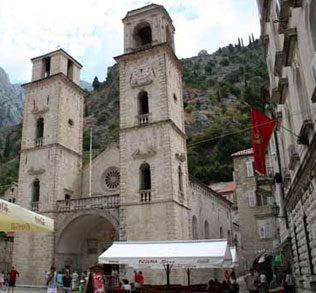 The museums in Kotor are packed with ancient artifacts that reflect the city's torrid maritime history. While its old narrow streets and squares with romantic bars and restaurants have many picturesque buildings, the Sveti Tripun (Cathedral of Saint Tryphon), a monument of Roman culture, is one of the most recognizable symbols of the city. Other architectural monuments in Kotor exist in abundance.  Don't miss the city's mysterious west entrance where the narrow passageway peeks through the Kotor city walls. The narrow streets of Kotor have a special magic and have been an inspiration to many artists.
The Kotor city walls seem to beckon, rather than repel, visitors and Kotor is packed with high-quality restaurants and bars to suit all lifestyles and budgets. The nightlife in Kotor has much to offer as its old town is filled with pubs, taverns, cafes, and some hip nightclubs. With the opening of the nightclub Maximus, it has become the focus of nightlife on Montenegro's coast. True to its traditions, Kotor is the host of many yearly traditional festivals and carnivals and the city knows how to showcase its beauty well. Summer events, such as Summer Carnival, add even more charm to this beautiful city and attract over 30,000 people to party in Kotor.
For a list of accommodation options in Kotor, please click here.