As one of the lucky visitors attending this year's Travel Indaba in Durban, South Africa, we look forward to experiencing the throngs of product owners, fantastic exhibitions and many cocktail parties. Indaba brings together a showcase of southern African tourism products and services for the international travel trade. In addition to the dedicated following of local and international media who provide extensive coverage of Indaba through radio, television, newspaper and dedicated travel publications, the Brilliant Tips Travel Blog will be tweeting and blogging live throughout the event which takes place May 9-12, 2009.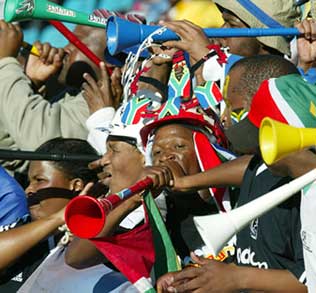 Our primary focus at the event will be to find out about cool things to do and to find the best places to stay for the hundreds of thousands of football/soccer fans who will flock to South Africa in 2010 to be a part of FIFA World Cup. If you or someone you know have any special requests regarding the FIFA World Cup and South Africa, please leave a comment and we'll research the requests while we're there. We'll also have our eyes peeled for original, contemporary and innovative products which are quintessentially southern African.
Lastly, I look forward to meeting with Richard Trietsch of IMinTourism.com, whose goal is to help travel companies in Africa to better understand the basics of Internet Marketing. IMinTourism.com is a free resource for people within the tourism industry in Africa who want to start with internet marketing and social media but have no idea where and how to start.  I will be attending the Indaba E-business Seminar on the 11th of May and look forward to hearing what local and international industry experts have to say about the rise of online tourism and the challenges facing the market in Africa.
photo credit: FIFA.com