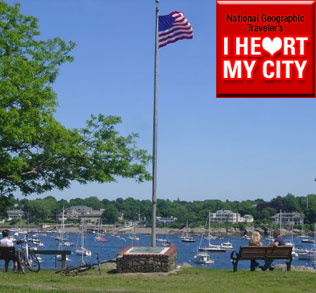 As part of #traveltuesday on Twitter, I noticed a tweet from @Marilyn_Res regarding submissions for National Geographic Traveler's I Heart My City. While I realize that I happen to live in a town and not a city, I just couldn't resist sharing the lovely town that I call home. If you happen to be visiting Boston this summer, I highly recommend taking the 17 mile trip north to Marblehead.
My City Questionnaire
Marblehead is My City
The first place I take a visitor from out of town is Fort Sewall.
When I crave a cold beer with a great view I always go The Barnacle.
To escape the real world I head out on a walk around Old Town Marblehead.
If I want to watch the Wednesday Evening Sailing Races in the summer I go to Fort Sewall or Crocker Park.
For complete quiet, I can hide away in my kayak on and around Marblehead Harbor.
If you come to my city, get your picture taken next to the original "Spirit of '76" painting which is located in Abbot Hall.
If you have to order one thing off the menu from The Barnacle it has to be the fried clams.
Shubie's is my one-stop shop for great gourmet take-out and for a great selection of wine.
Locals know to skip Starbucks and check out Foodies Feast or Java Sun instead.
When I'm feeling cash-strapped I go for an all day walk around Marblehead with my family and stop at the many different parks and playgrounds.
For a huge splurge I go to La Belle Femme Day Spa for a stone therapy massage.
Photo ops in my city include Marblehead Light and Abbot Hall and the best vantage points are from various spots around the harbor.
If my city were a celebrity it'd be Audrey Hepburn.
The most random thing about my city is that there is a bird sanctuary located in the middle of Marblehead Neck.
My city has the most creative and hard working men.
My city has the most ambitious women.
In my city, an active day outdoors involves heading out on the water.
My city's best museum is the Marblehead Museum & Historical Society.
My favorite jogging/walking route is the ring around Marblehead Neck.
For a night of dancing, go to Boston. Or, for live music, check out Lime Rickey's at Devereaux Beach on Saturdays throughout the summer.
White Hen Pantry is the spot for late-night eats.
To find out what's going on at night and on the weekends, read the Marblehead Reporter.
You can tell a lot about my city from walking through Old Town and reading the many plaques perched on the historic homes.
You can tell if someone is from my city if they know that the movies The Good Son and Hocus Pocus were both filmed here.
In the spring you should get back out on the water as soon as possible.
In the summer you should enjoy a picnic at Crocker Park then a jump in the harbor from the public dock below.
In the fall you should take a hike around the bird sanctuary and enjoy the foliage.
In the winter you should play hockey or go ice skating on Redd's Pond and see Santa and Mrs. Claus arrive at the town landing by lobster boat .
A hidden gem in my city is the Marblehead Little Theatre.
For a great breakfast joint try The Driftwood.
Don't miss the Marblehead Arts Festival in town every year around the 4th of July.
Just outside my city, you can visit the Salem Witch Museum and all that Salem has to offer.
The best way to see my city is on foot.
If my city were a pet it would be a friendly and feisty black Lab that is wet from playing in the water.
If I didn't live in a city, I'd live on a small island located someplace warm.
The best book about my city is called: Discovering Marblehead: A Guide to Open Spaces and Historic Places.
When I think about my city, the song that comes to mind is "Sail Away" by David Gray.
If you have kids, you won't want to miss rolling down the grassy banks at Fort Sewall or the tidepools at Fort Beach below.
The start of the Marblehead-to-Halifax ocean race could only happen in my city.
My city should be featured on your cover or website because of its architectural and natural beauty and because of its contributions to the American Revolution and Civil War.