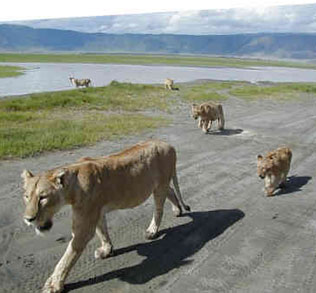 A dream of so many, viewing exotic wildlife in their natural habitat is a truly amazing experience to see. From trekking through the jungle to traveling as a passenger on an overland safari truck, here are our 10 favorite places in the world to view wildlife.
1.) Ngorongoro Crater – Tanzania: A World Heritage Site, the Ngorongoro Crater contains the most concentrated population of wildlife anywhere in Africa. Visitors descend the crater walls and enjoy game viewing in a spectacular setting. The "Big Five" (lion, elephant, buffalo, leopard and rhinoceros) can be found within the crater as well as a huge array of other wildlife such as hyena, cheetah, wildebeest and many species of antelope.
2.) Bwindi National Park – Uganda: Bwindi Impenetrable Forest National Park, a World Heritage Site in the southwest, is the reason most people visit Uganda. Its main attraction is the 300 or so endangered mountain gorillas living there.
3.) Masai Mara Game Reserve – Kenya: With its rolling green hills, vast open horizons and plains stocked with wildlife, the Mara encompasses many people's idea of Africa. Game drives here give visitors ample opportunity to search for the "Big Five" (lion, elephant, buffalo, leopard and rhinoceros) as well as numerous grazing animals such as wildebeest, zebra and giraffe. The region is also home to good stocks of hippo and crocodile in the Mara River and an enormous variety of birds.

4.) Galapagos Islands – Ecuador: On the Galapagos Islands the animals rule the land. Humans are just visitors, for the most part, on these islands known for their spectacular array of wildlife. Galapagos Islands' animals range from the famous giant tortoise to the tiny delicate finch, of which there are dozens of species.

5.) Chobe National Park – Botswana: Chobe National Park is perfect for wildlife enthusiasts as it has a large concentration of game in one single area. A major feature of Chobe National Park is its elephant population. The Chobe elephants comprise part of what may be the largest surviving continuous elephant population on Earth.

6.) Tanjung Puting National Park – Borneo: Started as a game reserve for the protection of orangutans in 1936 and 1937, it was upgraded to a National Park in 1982. In Tanjung Puting Park, you will see the orangutans of which many are ex-captive orangutans which were rehabilitated in the park. Visitors will also meet the king, the largest and the oldest orangutan still living in a wilderness of a national park.

7.) Gunung Leuser National Park – Indonesia: The Gunung Leuser National Park comprises more than 100 kilometers of the Bukit Barisan Mountains. Because of that, the park consists of steep, almost inaccessible, mountainous terrain. It is the only place on earth where four of the world's most spectacular animals are found together: the orangutan, rhinoceros, elephant and tiger.
8.) Madidi National Park – Bolivia: Madidi is one of the most biologically diverse protected areas on the planet. The park is home to over 1000 bird species, accounting for 11% of the world's 9000 bird species. Madidi contains large populations of Latin America's most charismatic wildlife species: jaguar, spectacled bear, maned wolf, vicuña, giant otter, Andean condor and military macaw, among others.
9.) Jim Corbett National Park – India: Located in the foothills of the Himalayas, the majestic Corbett National Park is widely known for the Bengal Tiger and the Asiatic Elephant and a variety of flora and fauna. Corbett is one of the richest bird regions of India.
10.) Kruger National Park – South Africa: The world-renowned Kruger National Park offers a wildlife experience that ranks with the best in Africa. Truly the flagship of the South African national parks, Kruger is home to an impressive number of species: 336 trees, 49 fish, 34 amphibians, 114 reptiles, 507 birds and 147 mammals.
Keep in mind that some of the most exciting wildlife viewing opportunities in the world occur in isolated, remote areas with few, if any, amenities. Also, be sure to keep your distance as the goal of all wildlife viewers should be to observe nature without disturbing or altering it. If your favorite place to view wildlife is not on the list, feel free to add it as a comment.