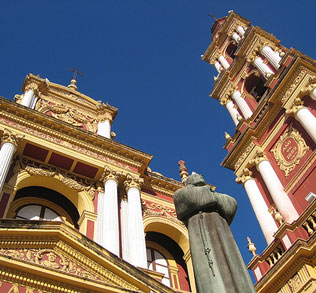 Salta is located in the northwest of Argentina bordering Chile, Bolivia and Paraguay. The colonial spirit from times past remains in its houses, streets, hundred-year-old monuments and narrow sidewalks. Its numerous statues, the San Francisco Church, the Cathedral and the many interesting museums are what set this city apart from others in Argentina. Salta's traditional hospitality and homespun friendliness blend with its great cultural richness. A walk down the streets around the main square, taking in the fresh air and stopping for a drink in one of the many cafes creates a very memorable experience.
Not far from the city center is a cable car that leads to the top of San Bernardo hill where you can enjoy magnificent views of the city of Salta and its outskirts. It is also easy to get to the top of the hill by car or simply on foot. Perhaps the best attraction of all is the El Tren a las Nubes or "The Train in the Clouds." This train defies the natural slopes of the mountains by climbing the highest ones and passing through the clouds as it crosses the Andes at 4,220 meters above sea level. The best place to pick up a souvenir or check out the local crafts is at the Mercado Artesanal which is an old ranch turned into a shopping area.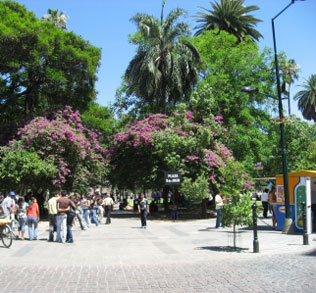 When night falls and the moon is out, beautiful Salta turns on its lights and the city recreates its charm in the main square, its cafes and on Balcarce Street. The main feature of Salta cuisine is the variety which is evident in the Pastel de Cambray. The most typical item is the mysterious and delicious Empanadas Saltenas. One cannot travel to Salta without tasting the empanadas that are known throughout the world as being the best. The night life in Salta is amazing. Things typically don't get started until around midnight and last until 5:00 or 6:00 in the morning. The most popular area at night is Balcarce Street which is about a 10 minute walk from the main square. If you're looking for a festive atmosphere, the Corre Caminos is a great hostel located in the city center about 9 blocks from the main square and a 15 minute walk to the bars and pubs. Another great place to stay in Salta is the Inti Huasi guesthouse which is about a 10 minute walk from the city center. The staff at the Inti Huasi are very friendly and the barbecue is one of the best in the area. The airport is located about 10 kilometers away from the city and the National Route #51 connects Salta to Buenos Aires, Córdoba, Tucumán, Jujuy, and other cities.