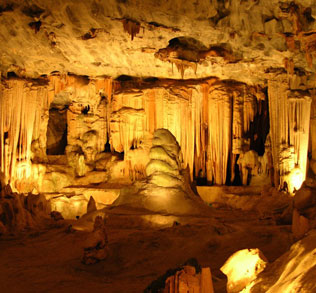 Located in Oudtshoorn, South Africa, about an hour drive from George at the head of the picturesque Cango Valley, lies a spectacular underground wonder known as the Cango Caves. The caves are situated in a limestone ridge parallel to the Swartberg Mountains and have breathtaking drip-stone caverns with vast halls and towering formations. The show cave offers standard and adventure tours lead by experienced, knowledgeable and accredited cave guides. The adventure tour consists of an extra 30 minute trek which is tacked on to the end of the standard tour. I chose the adventure tour.
Upon entering the chamber, I made my way in to Van Zyl's Hall which is dominated by a spectacular drip-stone and flow-stone combination known as the giant Organ Pipes. For me, the highlight of the beginning part of the tour was the tall, slender stalagmite which rises nearly 10 meters towards the ceiling known as Cleopatra's Needle. Cleopatra's Needle is an active and growing stalagmite that is estimated to be in excess of 150,000 years old. The standard part of the tour is a relatively easy walk and includes a historical overview and many of the stories that have evolved over the years.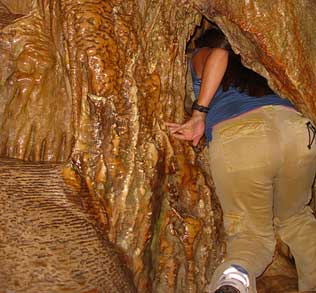 The adventure tour is very tough and starts out leading over a steep hump into the Devil's Kitchen with its notorious Devil's Chimney. Our guide pointed to a narrow crack in the wall and picked a leader to start things off. At first the group seemed to think the guide was kidding as he'd been a bit of a joker. Peering in, I saw a steep shaft about 45 centimeters wide leading upward for three and a half meters and at the top of which was a light.  I found myself using my outstretched hands to literally pull my entire body up through the Devil's Chimney. Amidst my many grunts and groans, I squirmed through into a larger chamber only to be confronted by an even smaller opening.  It was then that I realized why I kept hearing hysterical laughter from above. I crawled forward and approached a low, wide slot which was only 27 centimeters high.  The guide recommended a head-first 'posting' which he likened to a rebirth experience.  I managed to get through by wiggling and squirming through the narrow crevice.
From here it was an easy walk back along the previous standard route where I emerged into the welcome light of day at the cave entrance. Sweating, dirty and feeling exhausted, I was overcome by the energy of having truly accomplished something that at times I didn't think was possible.