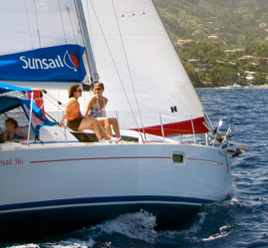 Since 1974, Sunsail has been offering Flotilla Sailing Vacations. Think of Flotilla Sailing as social sailing with an experienced staff plus a few extra perks. With the perfect balance between independent sailing and unobtrusive support, Sunsail offers a choice of 25 different sailing routes in the Caribbean and the Mediterranean. Adventures are offered for all levels from those with little experience to more advanced.
Sailing with up to 12 other yachts, there is a lead crew who will sail with you and provide a flexible itinerary that includes suggested anchorages to visit during the day or to moor for the night. You have the option to meet up with the whole flotilla at agreed destinations for dinner, punch parties, beach picnics and to take part in fun regattas and other social events.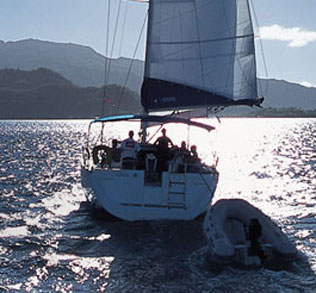 Many sailors will tell you this is the best way to go for the social aspect of meeting like-minded people with a thirst for adventure and fun. Others will rave about it because it gives you the extra sense of security if you're not quite confident of your skills or just want the safety of having a lead boat around for "just in case" scenarios. Still others will tell you the plus of Flotilla Sailing is simply seeing something new every day without having to pack and unpack while having all the clean linen, yacht cleaning, and snorkeling equipment included.
Who can go you ask? Just about anyone with basic sailing knowledge can participate. You can go it alone, as a dynamic duo, as a group or as a family. The route you choose will depend on all these factors. If this sounds like a perfect vacation but you know nothing about sailing, stay tuned for our upcoming blog on learning to sail in the BVIs; probably the best conditions to learn to sail.