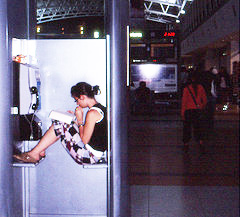 Summer is almost upon us in the northern hemisphere which, for some unexplained reason, means time for some light reading.  I always enjoy a fun travel story: verbal, written, and even when caught in the midst of.  It can be fiction or non-fiction, as long as it gives me a belly laugh or, at least, a few smiles.  I'm going to list several fun travel reads that I've happened upon and I hope you'll share your favorite reads in our comments section (the funnier, the better).
1. Round Ireland with a Fridge by Tony Hawks
After a downing a few drinks, Tony accepts an bet to travel around Ireland with a fridge in 30 days.
2. McCarthy's Bar: A Journey of Discovery in Ireland by Pete McCarthy
"Never Pass a Bar That Has Your Name on It" is just one of McCarthy's many rules of travel.
3. Ciao, America!: An Italian Discovers the U.S. by Beppe Severgnini
An Italian couple spends a year in Washington D.C. and observes American culture and all of its quirkiness.

4. Holidays in Hell  by P.J. O'Rourke
Originally published in 1988, I read this one sometime in the 90s.  Hardly remember the content, but I remember having a few good laughs.  I think I'll re-read this and see how it holds up in 2009.