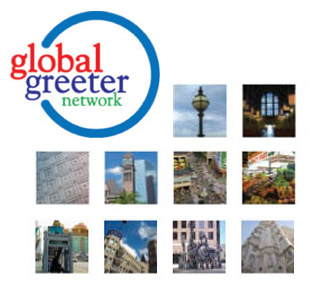 Traveling can be enjoyable to people for all different reasons.  Most trips I've been on where I've met a local who gave me tips or showed me around were the most exciting as I felt I was getting a more intimate look at a city than I could get through a guidebook.  For those who want to ensure they meet a local on their trip in an attempt to get the inside scoop on their destination should consider the free travel service provided Global Greeter Network.
"Greeters are volunteers who share their love for their cities in an enthusiastic and hospitable manner. A Greeter will travel with you through the city for a couple of hours and you will experience the city in a unique way, from the perspective of a person who lives there. Established in 1992 in the Big Apple, Global Greeter has expanded internationally.
Cities in the Greeter Network include Houston,Texas; New York City; New York, Chicago, Illinois in the United States; Toronto, Canada; Melbourne and Adelaide, Australia; Buenos Aires, Argentina; Paris, Lyon and Nantes, France; Thanet, Kent, England; and The Hague, The Netherlands."
Another benefit in meeting a Global Greeter is gaining an insight into customs and courtesys in the city or country you are traveling to.  It's always good to get a few pointers on what's polite and what's not to avoid a faux pas!