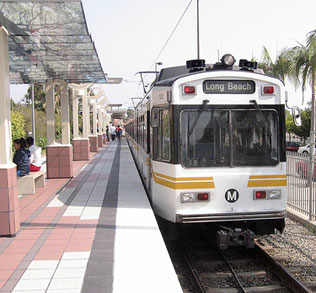 When it comes to getting from point to point using public transportation in Los Angeles, you "go Metro." The Los Angeles Metro system is made up of Metro Rail, Metro Rapid and Metro Local.
The ever expanding Metro Rail network is quickly becoming a popular alternative to braving the LA traffic. LA's Metro Rail system includes the Metro Blue, Green, Red and Gold Lines. The Metro Blue Line runs north and south between Long Beach and Los Angeles. The Metro Green crosses the the Blue Line running east and west between Redondo Beach and Norwalk (curving south near LAX). The Metro Red Line meets the Blue Line in Los Angeles and provides service through Downtown, Mid-Wilshire, Hollywood and the San Fernando Valley where it meets the Metro Orange Line transitway. The Metro Gold Line connects with the Red Line at Union Station and runs northeast to Pasadena.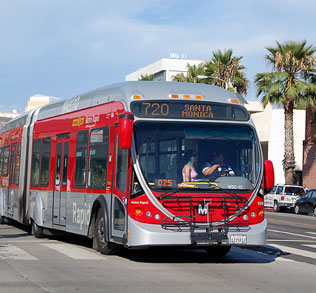 The Metro Rapid is LA's special rapid bus transit system. Featuring the latest in transit technology, Metro Rapid buses are equipped with special transponders that cause traffic signals to favor the bus; green lights last longer while red lights are shorter.  Making fewer stops, Rapid buses only stop at major intersections and transfer points.
The Metro Local is LA's bus service which includes local, limited-stop and shuttle bus services. Metro Local buses have route numbers that indicate the type of service offered.
To plan your travel route, visit the Metro Trip Planner and simply enter information about your trip. Locations can be entered in one of four ways. Landmarks (Union Station) and intersections (Hollywood/Highland) are two simple ways to indicate your location or destination.
For example:
When I type that I want to travel from the Santa Monica Pier to Hollywood and Highland at 10am, the results show that the 9:37am Metro Rapid Express 920 heading north from OCEAN AV/COLORADO AV connects to the Metro Rapid 780 at FAIRFAX AV/WILSHIRE BLVD and arrives at HOLLYWOOD BLVD/HIGHLAND AV at 10:45am for a total of $2.50.
When I type that I want to travel from LAX to the LA Convention Center, today at 10am, results show that there is a bus for $6.00 that leaves from the TOM BRADLEY TERMINAL at 9:31am and arrives at PATSAOURAS PLAZA/BUS BAY 9 at 10:20am. Here you have 10 minutes to change to Metro Express Line 445 from PATSAOURAS PLAZA/BUS BAY 7 which arrives at the FIGUEROA ST/PICO BLVD at 10:47am for $1.25. As you see, for a total of $7.25 you can travel from LAX to Downtown LA in 1 hour and 15 minutes.