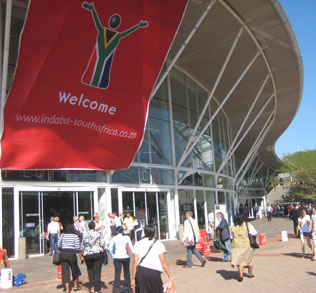 As I think back on Indaba 2009, I step back and take a deep breath. The sense of welcome was evident from the outset.  Amidst South Africa's sense of fun and inclusiveness, I could see how committed South Africa is as a nation to welcoming the world in 2010.
The highlight of Indaba was the launch of South African Tourism's 2010 campaign that invites the world to visit and to experience "rhythm like you've never seen before." The 60 second television commercial that will be seen on all of the major global television networks was screened for the first time publicly at the opening ceremony. It was met with rapturous applause and enthusiasm from thousands of buyers, journalists, visitors and exhibitors in the audience. Once the opening ceremony finished, Indaba attendees continued the celebration at the famous Indaba beach party. I arrived to great food, great company and the sound of the music.  This combination ensured everyone felt the need to celebrate and party.
The Global Media Face-off saw Richard Quest, host of CNN's "Quest Means Business", ready panelists with questions of his own as well as opening up the floor to questions. Quest vowed to keep the panel open and transparent, telling the media that no topic was off limits for the panel that included Danny Jordaan, FIFA 2010 Local Organising Committee CEO and Monhla Hlahla, Airports Company CEO.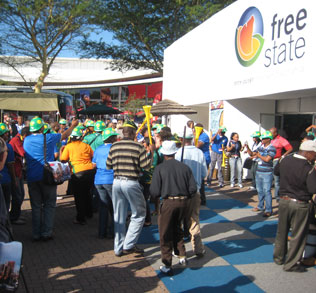 Throughout the entire Indaba, there was constant chatter about attendance figures. Was it up? Was it down? Does it seem as busy as last year? My understanding is that the goal was 13,000 attendees and, with one day remaining, attendance had surpassed 12,000. While I understand that it may be an important indicator, I could care less what the final attendance figure was as it would not change the quality of the show.
Tourism is about people and I think that gives South Africa a competitive advantage when it comes to the country's share in the global market. In addition to offering fantastic value, South Africa satisfies a wide range of niche markets and the people of the country often provide the magic. I think back to my encounter with Elizabeth Fester of Fester's Bed & Breakfast. I sat next to Elizabeth on a hotel shuttle bus one night and had an amazing conversation with someone who has a larger than life personality.  Tourists buy experiences and the country of South Africa offers a world in one country.
I would like to thank South African Tourism for all the time and energy they invested in making sure every single delegate had a successful Indaba.