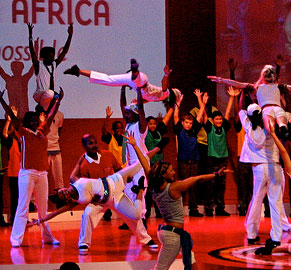 "We are ready to host the world!" exclaimed South African Tourism Chairperson, Jabu Mabuza, at the official opening of Indaba 2009 last night. Indaba, one of the top three travel shows in the world, opened in Durban yesterday with the launch of South African Tourism's 2010 FIFA World Cup welcoming campaign. Reaching more than 600 million people between now and kickoff, the multimillion Rand campaign is designed to get the world dancing to the 2010 beat.
The campaign takes its inspiration from South Africa's uniquely flamboyant football style known as Diski. Diski is a dance that just about anyone, anywhere, can learn and it is sure to become the definitive dance of the first African World Cup. "This campaign is for the people of South Africa. This is our World Cup and we invite all to learn the Diski dance and heartily welcome the world to the great party that this World Cup is going to be.", said Sugen Pillay, South African Tourism's Global Events Manager.
A 60-second commercial featuring the Diski dance will air on BBC World, CNN International, Sky, Eurosport, and Fox and is expected to reach more than 600 million people between now and kick-off.