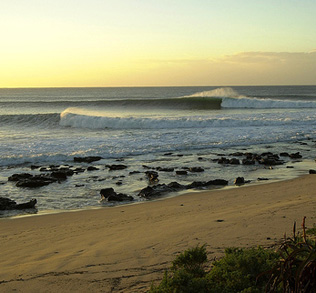 While there are many world-class surf spots along South Africa's coastline, my favorite is Jefferys Bay which is located at the heart of the Eastern Cape's Sunshine Coast. Known simply as "J-Bay", the surf is a perennial contender for "world's best wave" status. J-Bay lies on the southern South African coastline, about 45 miles west of Port Elizabeth and several hours' drive east of Cape Town. The township and most of the surf sits on the western tip of the bay which stretches off to the east in a massive 15-mile arc of sand, rock and ocean filled with fish. In recent years, the town has seen extraordinary social development with massive growth of its tourism industry matched by a similar growth in the importance of surfing to the local economy.
South Africa's best waves are found at Supertubes.  For 10 days each July, Supertubes hosts the Billabong Pro, a World Championship Tour event. At this time of the year, the waves are an awesome Hawaiian-like size at 1 to 3 meters high, placing them among the top ten swells anywhere. Aptly named, Supertubes is a long, powerful wall, drawing larger swell energy from the upper reefs and funneling it for about 200 yards. A few other good spots include Boneyards which is a quick hollow right reef that is very popular on smaller days and Impossibles (also aptly named) which is a series of shallow lava beds with long deep water holes that interrupt the wave, except during times of unusual sand buildup when you can surf 150 yard extended barrels.
Finding a place to stay in J-Bay usually isn't a problem. Thousands of big holiday apartments and summer homes have sprung up all over the place in the past 15 years. Our friends at LiveTheLife.tv, a free surf travel & real estate guide, have put together a hand-picked list of killer surf accommodation all within walking distance from the world-class surf.
Here's a sample:

Luxury Surf Villa – The House of Balance was especially created for surfers who also want to enjoy the views and luxury of an exclusive and private beachfront house before and after each surf session in Jeffreys Bay, South Africa.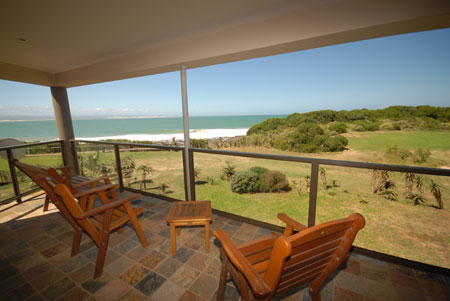 Budget Surf B&B – Lazeebay is situated in the heart of Wavecrest, Jeffreys Bay in South-Africa, only a 200m walk to the beach and Supertubes surf spot just behind the Spar Shopping Center. The name itself says it all…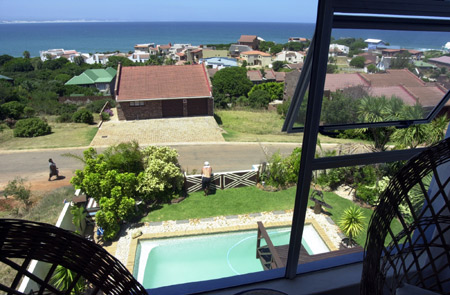 Cool Surf Units – Zen Guesthouse in Jeffreys Bay is nestled 300m above the legendary surf spot Supertubes. They offer peace and tranquility with spectacular sea views and the sound of the sea. They invite you to soak up the sunshine, enjoy the relaxed atmosphere and have a wonderful stay.